Living Luxuriously in the Fast Lane
The magic of a Formula One Paddock Club descends on Bahamas Speed Week in style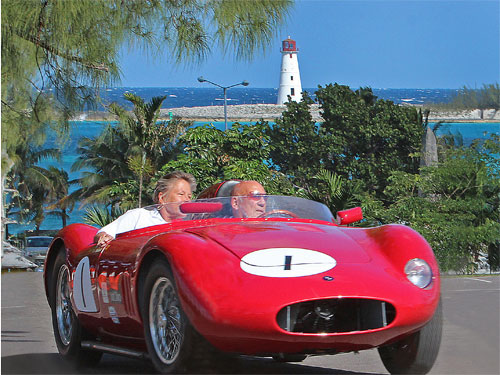 One of the wealthiest families in the world has dinner at a 5-star Nassau restaurant and goes home to boast about the experience. Affluent attendees purchase watches worth six figures on Bay Street. A real estate company brokers a champagne deal with a local company and dozens of high-net-worth visitors tour a budding, exclusive residential development in Abaco.
Those were among the profits spawned in the Bahamas Speed Week Paddock Club last year and more are expected soon when the massive marquis with its luxury-packed lounge opens as the power-packed place-by-the-race where business meets pleasure and the two intermingle with the ease of old friends.
From Malaysia to Monaco, the Paddock Club —   open to local and foreign drivers as part of their entry fee and to anyone else who can dish out the $275 for Saturday or $400 for Saturday and Sunday combined — is the comfortable lap of luxury and lounging adjacent to the excitement of the vroom of multi-millions of dollars of engines and auto bodies. It's the place to be for those who seek the high life in the fast lane. Revered international race car drivers, global CEO's, Olympic gold medallists and celebrities all socially entwine to enjoy the love of speed, but more importantly to talk business.
"Paddock Clubs around the world have become magnets to the elite," said Speed Week organizer David McLaughlin. "Business moguls, politicians, film stars, models and international athletes flock to such venues because they appreciate the style and standards established. It presents a unique opportunity to mingle – not to mention the chance of a close encounter with the race car drivers. We're bringing a similar experience to The Bahamas Speed Week Paddock Club this year."
According to McLaughlin, it is not unusual for Paddock Club passes to be sold out with a waiting list at $5,000 a head for a Formula One championship. While tickets can range up to $400, bleacher seats are $30.
Since it was established, the Paddock Club concept has become the ultimate in corporate hospitality, luxury, spectator enjoyment and a key element in the strategy of many of the world's leading businesses. Its exclusivity provides an environment in which those who attend the high-end glamorous sport can rub shoulders with legendary race car drivers including Sir Stirling Moss, Derek Bell and Brian Redman, sip champagne, savour exceptional cuisine, relish a fine cigar and experience the thrill of the racing action.
During Bahamas Speed Week's Circuit Sprint and Hill Climb on December 1 and 2, the Paddock Club, also known as the Driver's Lounge, will host guests for 20 hours of refined hospitality with music, entertainment, luxuriously-appointed lounging areas and amenities ranging from spa treatments to designer restroom trailers with marble and glass finishing. Among the roster of invited acts and activities — magicians, a circus act, Graycliff cigar-rolling, Young's Champagne and an impressive smorgasbord.
To achieve such a high standard in a massive 20,000 square foot marquis with Arab-style tents inside, event planner Alexandra Mailis-Lynch began planning and scheduling months ago, ironing out every detail from ensuring that every piece of custom-covered Oasis outdoor furniture is correctly placed in the Driver's Lounge to taste-testing every menu item for the non-stop flow of food.
"It's very exciting," said Maillis-Lynch, who actually created a full-time business based on the work from Bahamas Speed Week she hopes will spill over into other business. "It's also nerve-wracking because you want everything to be absolutely perfect."
Bahamas Speed Week 2012 kicks off November 24 with an antique auto exhibit and auto trade show and continues for one week of non-stop activities ranging from an island parade of some of the world's rarest cars traversing New Providence to a Fort Charlotte hill climb, from time trials to the introduction of limited side-by-side auto racing. For information, visit www.bahamasspeedweek.com or (242) 394-0677.
Diane Phillips and Associates
Caption: Up close and personal with racing legend — Legendary race car driver Sir Stirling Moss and Lady Moss tour  Nassau with the harbour and lighthouse in the background, a perfect setting for the international media that covered Bahamas Speed Week Revival 2011. This year, the patron of the event is returning and will be rubbing elbows and exchanging stories with those who enjoy the laid-back luxury of the Paddock Club and Drivers' Lounge, a place where business meets pleasure and day members enjoy the pace of the races with the non-stop flow of fine food, champagne, Graycliff cigar-rolling, entertainment and more. (www.bahamasspeedweek.com)

autos, events, history