Local Crafts Fair During Speed Week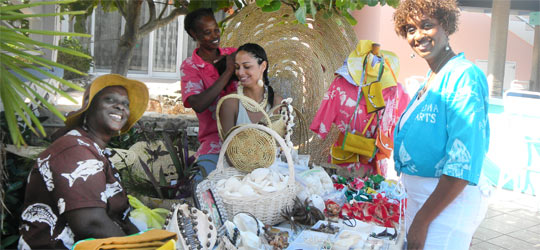 While exotic cars from around the globe zip around the circuit at Arawak Cay for Bahamas Speed Week 2012, exotic flavours and homemade goods from around the islands will vie for best in taste and show as part of a massive locally-made goods and crafts exhibit and sale when Speed Week joins hands with the Bahamas Agricultural and Industrial Corporation (BAIC) December 1 and 2.
"Everybody's so excited about the opportunity to showcase their items, not just to local residents, but to all the visitors who will be able to see the arts, crafts and homemade foods that we have  in The Bahamas," said Donnalee Bowe, Assistant General Manager, BAIC."We look forward to a long relationship with Bahamas Speed Week. It comes at such a good time as part of our expanding reach. We launch The Bahamas platform (e-commerce) in 2013 and we are increasing our participation with businesses who are placing more orders with our craftspeople on a regular basis."
According to Bowe, well over 40 exhibitors are scheduled to participate, including associations from Andros, Grand Bahama, Eleuthera and Exuma.
Krivoy Smith, President of Exuma-based YUMA Arts, said five craftspeople from that island will fly to Nassau for the event, displaying and offering for sale straw craft, handbags, jewelry, decorative bottles and an array of fruit and vegetable preserves.
"We won best booth last year in the annual BAIC show so we are fully prepared and excited to be part of Bahamas Speed Week," said Smith.
And April Martin, president of the Nassau-based Beachcombers in Action, said she thinks her group will stand out.
"We have 24 members," said Martin, "and 10 of them are participating, putting out their craft — shell jewelry, home décor including candle holders, picture, frames, mirrors, homemade jams and peppers, straw bags." Martin's members are also showing mugs, candy dishes and jewelry carved out of coconut shells. "The members are really excited about it," she says.
Speed Week organizers who took a chance last year re-awakening what had been Nassau's premier tourist event in the 1950s and '60s said interest this year has been "over the top."
"When we first announced Bahamas Speed Week and used the word Revival, we honestly wondered if there would be enough interest," said David McLaughlin, Director. "But it's been absolutely  phenomenal and having partners like BAIC with all the energy they bring to the event really puts the enthusiasm over the top. The presence of Sir Stirling Moss as honorary patron added to the glamour last year and we are delighted that he has agreed to return this year in the same capacity."
The BAIC crafts fair will take place on fairgrounds adjacent to the action when more than 40 rare and exotic race cars take to a 1.5-mile circuit at Arawak Cay with speeds exceeding 135 mph.
Tickets for the Bahamas Speed Week series of events that includes an island tour, hill climb, circuit races, gala ball and auction of promises to benefit local charities are available starting at $30 for bleacher seats through www.Bahamasspeedweekshop.com. Private membership to the catered Paddock Club and Drivers' Lounge area with entertainment are available through 242-394-0677. There are also Facebook contests.
Diane Phillips and Associates
The crafts are coming — More than 40 straw and craft vendors from Exuma, Eleuthera, Andros, Grand Bahama and Nassau are preparing to show and sell their homemade arts, bags, jewelry, ornaments, decorative items and jams during the massive BAIC fair as part of Bahamas Speed Week. Events take place December 1 and 2 at Arawak Cay. Pictured Krivoy Smith, foreground, president of the YUMA Arts, Exuma. Speed Week is a week-long series of events that includes races, time trials, hill climbs, a charity ball, island tour and for the first time, a full karting program. That takes place at the Thomas A. Robinson Stadium November 25.   

autos, cars, crafts, events, history