Mixed Views On Gambling Referendum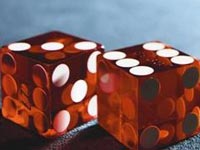 An industry insider is speaking out about the "devastating" effects of gambling, having had years of first-hand experience observing countless tourists playing games of chance.
Steven Serrette, a former casino pit boss and supervisor at both the Wyndham Nassau Resort & Crystal Palace Casino and Atlantis, who started out as a croupier, told The Nassau Guardian he understands the nature of gambling.
"The house always wins – I've seen people with millions of dollars – by the shot of the dice – come to nothing," he said.
"It has destroyed so many families and [in order] to know the truth…we must educate our Bahamian people on the [devastating effects] of gambling.
"I used to gamble in poker houses. I'm a street man. I know the streets and I understand [web shop gambling] and…The Bahamas needs to know the truth. "We must get the gospel out and get the truth out and I would encourage Bahamians to vote no."
Serrette, who worked in the industry for over a decade, said he left the casino to establish his own businesses after becoming tired of seeing what the industry can do to people.
He has joined members of the Bahamas Christian Council (BCC) and their 'Save Our Bahamas' anti-gambling campaign, in the hope of defeating the upcoming gambling referendum set for December 3.
Voters will be asked whether they support the legalization and regularization of web shops.
The BCC is fiercely against the legalization of any form of gambling for Bahamians.
The Bahamas Conference of The Methodist Church (BCTMC) said yesterday that it fully supports the BCC and will meet in short order to determine what assistance it can provide to the 'Save Our Bahamas' campaign, including financial backing.
BCTMC President Reverend Christopher Neely and General Secretary Deacon Elmena Bethel said the web shop owners are backing their cause and the church must come together and do the same if the referendum is to be defeated.
"We have been attending their meetings and will support their stand whether it is with our voice, finances or time," Bethel said.
"We always say we want to change things, but often when the challenge comes we step back. But how will it get done like that?
"Our membership and non-Methodists have been calling on us to speak on the topic, but we have been training and teaching our members about gambling, and other key issues so it is nothing new to the Methodist church."
Bethel said it is the outside contributors who will continue to support sports, arts and culture on a broader scale and not the money generated from taxing web shops.
Ariel Small, a graphic designer and a frequent web shop gambler, said although she enjoys gambling and will continue to do so, she will vote no on December 3.
"I prefer the government to leave it alone; leave it as it is and continue to raid the web shops so I can maintain my winnings without having them reduced because of taxes, and I don't have to worry about only a select few being able to operate in the industry," Small
said.
"I see it as a way of making ends meet. If I'm left with $150 after paying all my bills and expenses – my light bill, my rent, my school fees are all paid and food is in my house – and you can turn that into $250, wouldn't you take that chance? I play every day, but I'm not dependent on it."
Small, 30, said on average she spends $30 to $35 a month. She claimed she has won close to $2,900 for the year so far based on her playing history at a local web shop.
She agreed that Bahamians need more time to be educated on the issue, but the presumption that all gamblers are addicts is far from the truth.
The mother of two, a boy and a girl, said while some people prefer to take their left over money to the church, she and many others prefer to turn it into more through gambling.
By Royston Jones Jr.
Guardian Staff Reporter

gambling referendum, web shops