New Bahamian Envoy Accredited To CARICOM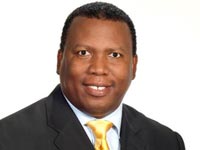 Picewell Forbes, Plenipotentiary Representative of the Bahamas to the Caribbean Community (CARICOM), on Tuesday presented his Letters of Credence to Secretary-General, Ambassador Irwin LaRocque, at the CARICOM Secretariat.
The third Plenipotentiary Representative of the Bahamas to CARICOM, Ambassador Forbes is a veteran broadcaster and communications specialist.
Describing the diplomatic appointment by the recently-elected government of the Bahamas as testament to its commitment to CARICOM, Secretary-General LaRocque highlighted the significant strides the Bahamas has made in pursuit of national development and in its contribution to regional integration. Regarding the former, he lauded the country's aggressive quest for development in energy, tourism industries and agriculture. Job creation, youth empowerment and advances in education, were other areas he highlighted as part of The Bahamas' "new era of prosperity."
Sounding out its participation in regional programmes and projects, the Secretary-General noted that the Bahamas has been actively involved in areas of human and social development, climate change, foreign policy and security, as well as trade and economic development. Particularly significant, he noted, was the strength of the Bahamas' voice added to those of its fellow CARICOM Member States in seeking to articulate and defend the Region's interests in the global arena.
"…whether by advocating for reconsideration of the discriminatory Air Passenger Duty (APD) applied by the British Government which impacts our competitiveness in tourism; or whether by ensuring global attention, through the United Nations, to the scourge of Chronic Non-Communicable Diseases …; or by advocating for reform of international financial institutions like the World Bank and the IMF and to address the peculiar characteristics of small, vulnerable and highly-indebted middle-income countries such as ours," the Bahamas has been active participant in CARICOM, the Secretary-General said.
Ambassador Forbes' accreditation came at a critical juncture when efforts were being made to strengthen the Community through reform and change, with a Community Strategic Plan and a restructured Secretariat as two key elements, Ambassador LaRocque said.
"As I seek to drive this process forward, I shall be counting on you and your colleague CARICOM Ambassadors to give input and to facilitate the requisite consultations which must take place at the national level, to ensure that this process reflects the priorities of Member States and the aspirations of our people," the Secretary-General said.
The Ambassador's vast experience and expertise in the area of communication, placed him "particularly well," Secretary-General LaRocque said, in making a contribution to involve the people of Community in the transformation exercise.
By Bahamas Information Services

agriculture, CARICOM, energy, tourism