November Is National Women's Month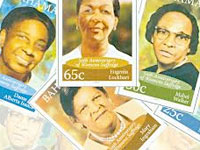 To honor the 50th anniversary of women being able to vote, the month of November is being celebrated as National Women's Month.
"It has been the tradition for the past several years for the Bureau of Women's Affairs in conjunction with non-governmental women's organizations to observe National Women's Week in November to encompass November 26, the date when women 21 years of age and over voted for the first time in The Bahamas. This took place on November 26, 1962, 50 years ago this year, hence the Ministry of Social Services and Community Development has decided to hold a month long observance of this most significant and historic event in the life of our nation," Senator Tanisha Tynes said.
Speaking at a press conference at the Office of the Prime Minister on behalf of Minister of Social Services and Community Development Melanie Griffin yesterday, Tynes noted that the theme of the month's activities is, "Celebrating 50 years of Contribution to Nation Building."
She said women were finally about to vote after years of struggle, petitions and demonstrations by Bahamian suffragists.

history, vote, women