Sidney Poitier Encourages Bahamas Youth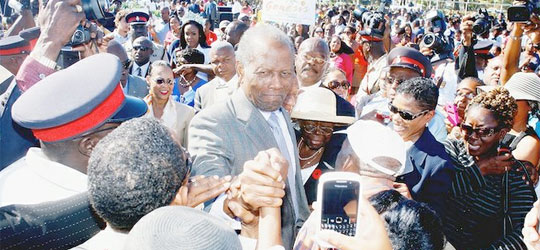 Oscar-winner Sir Sidney Poitier called on young people to take The Bahamas to levels 'unimagined' by their ancestors as the western Paradise Island bridge was officially renamed in his honour and The Bahamas started its celebrations to mark 40 years of independence.
Standing before hundreds of students, many from Cat Island, well wishers and supporters yesterday, Sir Sidney challenged the next generation to contribute to the success of the country for years to come.
"You are the gifts, the golden gifts of our ancestors long gone," said the 85-year-old.
"You are the future of The Bahamas. You will design its future, you will take this country to levels unimagined by your ancestors and you and the education that you will provide to the culture, to the history, to the ongoing strength of the country of your birth, will also be remembered.
The 'To Sir Sidney with Love' dedication was the first of many events happening this weekend, and the precursor to events in 2013, celebrating the 40th anniversary of independence.

celebrities, youth