'To Sir With Love' – Bahamas Honours Sidney Poitier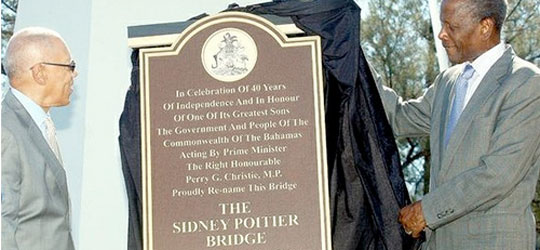 The Bahamas is gearing up to celebrate the 40th anniversary of the country's independence in 2013. To kick off the celebration, Prime Minister Perry Christie decided to honor a man who is arguably the most famous Bahamian of all time, the legendary actor Sir Sidney Poitier. Christie held a ceremony Friday morning at one of the bridges connecting Paradise Island to Nassau and unveiling a plaque renaming the bridge to Paradise Island 'The Sidney Poitier Bridge'.
It was a truly moving and beautiful ceremony, with school children from around Nassau and Cat Island, where Poitier grew up, in attendance. Dignitaries, including Christie, were there as well, welcoming Poitier and his family. Music from a marching band was playing constantly prior to the ceremony and when Poitier finally arrived, the crowd roared.
Christie welcomed everyone, noting that he "can't think of a finer way" to kick off the 40th anniversary celebrations. He called Poitier a "creative genius of acting" who not only stood against stereotypes, but broke them down and became a trailblazer for others in his field. The Prime Minister told the children to learn from Poitier's success and added that he hopes there were "many Sidney Poitiers" in the crowd.
Poitier gave a short speech. A portrait and the plaque with his name were both unveiled. Despite being 85, Poitier's sense of humor is still with him, telling the crowd "I never looked that good," when the portrait was shown.

celebrities