Web Shops Up Ante On Prizes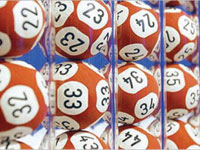 Underground gambling firms are upping the ante when it comes to jackpot prizes.
In the lead up to a nationwide referendum on the legalization of gambling, at least two of the big five companies are offering houses as part of a "grand prize".
According to Levin Wilson, a former executive at Asue Draw, What Fall was the first gambling house to offer a house in New Providence about six weeks ago. However, recent advertisements in the capital indicate that rival company Island Luck is now also presenting its "Big Bang" campaign whereby a house and car are among the top prizes.
"It's a very competitive market so everyone is trying to come up with a way to gain market share," Wilson said. "What Fall is a relatively new player and they're grabbing more market share in the industry. When they offered a house, that shifted the industry a bit."
Island Luck, Asue Draw, Nassau Games, What Fall and Island Games are generally considered the big five Bahamian gambling houses.
The new class of prizes comes not only during the Christmas season, but also amid swirling controversy on the referendum next year. Few subjects have enflamed and divided portions of Bahamian society more, despite the presence of underground gambling houses in the country for decades.
Wilson told Guardian Business yesterday that an upcoming referendum is likely a factor behind more lucrative prizes.
"They are very aggressive and associated with Island Games. Based on that, they can get mileage very quickly," he said. "They have come a long way and continue to push the envelope. Now they are giving away homes. That was never done before."
While the prizes have grown increasingly valuable, the jury is out on whether the companies are playing a valuable role in the overall economy.
It's for that reason, and the fact the practice would only be driven further underground, that top business leaders believe that gambling must be regulated and thrust into the open.
By Jeffrey Todd
Guardian Business Editor
For the entire article, click here.

gambling referendum, web shops