BIFF Salutes Arthur C. Rolle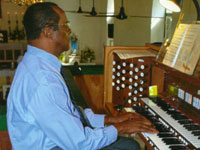 Bahamas International Film Festival (BIFF) would like to salute Arthur C Rolle of Governor's Harbour in Eleuthera who had the foresight to establish the original Parade Theatre in 1965 located across from the ball park in Governor's Harbour.
"Rarely do I meet a gentleman like Mr. Rolle, charming, regal, with such a kind soul, resembling Hollywood's best, such as Harry Belafonte or Sidney Poitier.  Mr. Rolle single-handedly operates the only movie theater in Eleuthera, The Globe Princess Theater, embodying a Cinema Paradiso allure," said Leslie Vanderpool, Founder and Executive Director, BIFF. "Mr. Rolle's passion for film is an inspiration as it brings him such pleasure to entertain the people of Eleuthera. BIFF Best Of Fest is proud to bestow such an honour to Mr. Rolle, which will be presented by the Honourable Damian Gomez."
Arthur C. Rolle of Governor's Harbour, Eleuthera began his career on a path that is unique among local business entrepreneurs.  After completing his education, Arthur entered the field of motor mechanics.  Later on, he became partners in a joint venture known as Highway Service Station, and after 15 years in partnership, he made a friendly separation.
The old structure (Parade Theatre) still stands but the new theatre is called Globe Princess Theatre which was opened in 1982 and is located on Queen's Highway, Governor's Harbour. Rolle established the first Auto Parts Store in Central Eleuthera.  The civic-minded individual served as the Commissioner of Softball, and was a member of the All Eleuthera Regatta Committee as well as the All Eleuthera Junkanoo Committee.  He is a Past President of the Kiwanis Club of Eleuthera and Past Lieutenant Governor Division #22 of Kiwanis – Eastern Caribbean and Canada, and is currently a Justice of the Peace for the Island of Eleuthera.
Mr. Arthur Rolle of Eleuthera will be celebrated by BIFF at a special tribute for him at BIFF's Best of Fest Eleuthera taking place from December 10th-14th. Civic-minded Mr Rolle is seen here playing the organ at his church.
Arthur Rolle's illustrious career and contributions to his beloved country were formally recognized when he became a recipient of the Queen's Certificate and Medal of Honour.  He is an active member of St. Patrick's Anglican Church, Governor's Harbour where he presently serves as the organist for 42 consecutive years.  He represented St. Patrick's Church at the Anglican Diocesan Synod and was a member of the Diocesan Council.
Arthur is happily married to his wife Shirley, nee Sands, and he is the proud father of 3 girls.
BIFF is excited to be holding Best Of Fest Eleuthera from December 10 -14th.
For more information on this year's film festival, click here. 

Bahamas International Film Festival, Eleuthera