Is Government Too Busy For Bahamian People?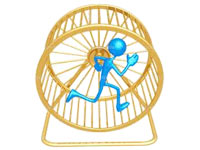 It is with some relief that we now know that not even the director of the National Insurance Board (NIB), Algernon Cargill, can schedule a meeting with the prime minister. Since the elections, this government has not been as available as it should to local Bahamian businesses and the greater Bahamian public.
But just what has this government been doing that has kept it so busy?
First it was the transition period upon the change in government. Of course, some delay was anticipated as ministries took new leadership. However, the Progressive Liberal Party (PLP) was in power five years previously. The transition should have taken place efficiently. Then it was the North Abaco By-Election – the overly dramatized campaign to secure the former prime minister's constituency.
Finally, after October 15 there was some hope that the government would be moving forward with business. Yet, the November 1 announcement of a gambling referendum on December 3 initiated a highly controversial public debate on a referendum with no details released. Discourse on gambling has momentarily stalled since the government announced a referendum delay to January 28.
And now we are entering the height of the Christmas season. Attempts to meet with government officials before the end of the year will likely be all but futile.
How then does a business or individual meet with a minister in a reasonable amount of time?
As Cargill did, many businesses submit a formal written request for a meeting to the Office of the Prime Minister. And many like Cargill receive no response; or if lucky a response, but no definitive meeting date. Unfortunately, such a scenario is not limited to the Office of the Prime Minister; it is repeated across the ministries.
Secretaries indicate that they must meet with a minister to confirm his schedule. Understandably, it is wise to converse with a minister about the potential meeting attendee(s), its subject and date. But when follow-up written requests and telephone calls are met with the same answer that the minister must be consulted some two weeks later, it is hard to believe that his assistant has not had time to speak with him.
Central to this plague of unavailability is the lack of a cohesive communication technology program used by the government. We are nearing 2013 and government employees use webmail programs such as Gmail, Hotmail, Yahoo and others. Administrative assistants and secretaries should be delegating ministers' schedules through shared calendars. It is a secretary's job to know when the minister is available and unavailable or to at least reasonably ascertain when he will or will not be in office.
Or is it simply that the government wants to meet only with those Bahamians and companies who can afford to exert countless wasted hours trying to confirm a meeting?
Government officials must make a concerted effort to commit to meeting dates in a reasonable period of time. So far, this government has shown inadequate commitment to members of the Bahamian business community who are unable to connect with their government representatives.
Understandably, our government ministers are kept extremely busy and last minute travel may often arise. But when the delays become so long and continued communication a tedious effort, many simply give up and never receive any further government communication.
The Bahamas seeks to increase foreign direct investment and is positively perceived for the ease of doing business. However, continued failure in communication efforts and indifference to meeting commitments is a dangerous approach that will deter potential investors.
Businesses will not be deterred by a meeting date set a month or two in advance; a business simply does not have the time or money to waste constantly following-up and rescheduling. Being ignored and run-around should not be part of normal operating procedures in government, yet we find it is.
Editorial From The Nassau Guardian

business, government