Ping-Pong Tournament Nets Success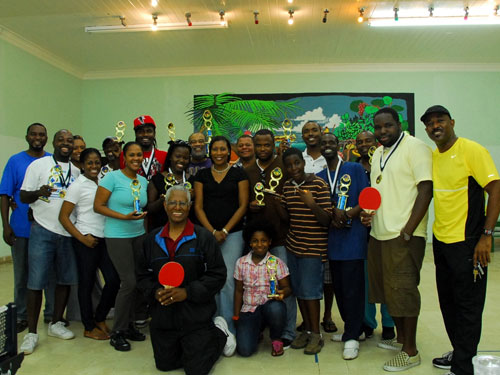 Dozens of table tennis fans and Toastmasters supporters poured into the YWCA on Dolphin Drive, Saturday, December 8, in show of their support of the 31st annual J C Sweeting Table Tennis Tournament sponsored by the First Bahamas Branch of Toastmasters, Club 1600.
Determined to get a little white ball over a very small net, a total of 30 players competed in the sport which got its start as a parlor game of the upper middle class in the late-Victorian era and grew into an Olympic event.
Competitors bandied the ball along with some good-natured jeering and cheering as they duked it out to take home a trophy and a year's worth of bragging rights. There were six top spots up for grabs.
Makia Cooper walked away victorious In the ladies' competition, while Elaine Bullard snagged first runner-up.
In the Friends of Toastmaster's Division, Bishop Erroll McLaughlin placed first. Arlington Hanna captured the first runner-up spot.
Andrew Albury won the special-featured, Division Governors' Competition. First runner-up was Judy Simmons. Clement Foster and Dwayne Davis snagged the first and second spot, respectively, in the Past President Competition.
In Division B, Carlos Palacious was declared the winner. Carson Forbes came in second. Meanwhile, in Division A, Godfrey Springer took the top prize, followed by first runner-up Clement Foster.
The tournament takes its name from highly decorated Toastmaster, J C Sweeting. Sweeting was named Toastmaster of the Year in 1981 and Toastmaster of the Decade in 1984. He has been a member of the organization for nearly four decades.
Toastmasters International is a nonprofit educational organization that teaches public speaking and leadership skills through a worldwide network of clubs. The organization has 13,000 of them world-wide.
The table tennis tournament and its accompanying steak-out is one of the major fundraisers for Club 1600, an organization which traces its roots back to 1969.
Part proceeds from the event go to offset the cost of the club's Youth Leadership Programme (YLP), which empowers teenagers to become effective communicators and leaders through a free, workshop style, eight-week course.
During the programme, participants are taught to organize and present their ideas logically and convincingly. Additionally, they learn how to chair a meeting, prepare an effective speech and develop impromptu speaking skills.
Toastmasters Club 1600 meetings are held every Thursday at 8pm at the Sheraton.
By Precision Media for BahamasB2B.com