Two Children Hit Crossing Highway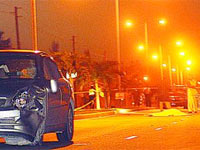 A teenage girl was struck and killed by a motorist as she attempted to cross Tonique Williams-Darling Highway.
A boy was also struck during the incident but not killed, said head of the Royal Bahamas Police Force Mobile Division Superintendent Ken Strachan. The boy was taken to hospital where he was listed in serious condition.
No identification was provided for either victim. The incident reportedly occurred shortly before 5 p.m. in the area of Penn's Builders Square.
"Officers met the body of a young female lying in the roadway in the eastbound lane of the dual carriageway," said Strachan, who noted that the girl died on the scene.
"A young male was lying not far away. He was being tended to by concerned citizens. He was, at the time, suffering from significant trauma to the body."
Several people at the scene said a driver in the lane closest to the shoulder of the highway halted to allow the girl and boy to cross, but a driver in the next lane kept going and struck them both.
This latest traffic fatality marks the 40th this year. There were 44 recorded in 2011.

children, community, society, traffic, youth