Concern Rises Over Drug Shipments At Airport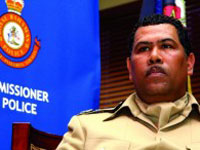 Commissioner of Police Ellison Greenslade showed concern over the growing use of the Lynden Pindling International Airport as a transshipment point for illegal drugs.
Commissioner Greenslade told The Tribue that his officers have made "significant drug seizures" at the airport, noting that a majority of th busts involved passengers arriving on commercial flights from South America.
In his overall crime statistics review for 2012, Commissioner Greenslade said that of the 578.75 points of cocaine confiscated last year, 137.49 points were seized at LPIA, estimated at a street value of $2.06 million. Police also confiscated 15.2 pounds of liquid cocaine, 9.5 pounds of heroin, and 15.98 pounds of marijuana at LPIA.
These confiscations resulted in 23 arrests.
Overall, police seized a total of 152.5 pounds of cocaine from all airports and docks in the country, and 475.55 pounds of marijuana.
In October of last year, Assistant Commissioner Anthony Ferguson said police are keeping a close eye on passengers coming in from Panama after several were caught attempting to smuggle drugs into the country.
ACP Ferguson's comments came after a 27-year-old woman was arrested when found in possession of two and a half kilos of what was suspected to be cocaine.
He said police have been noticing a trend with people coming in from Panama and are keeping close watch on those flights.
"The police have been vigilant with people coming in from Panama. We are watching trends and we saw a pattern. So over the last few months you would have seen increased interdiction from persons coming in from Panama on that airline," ACP Ferguson told The Tribune.

drugs, Ellison Greenslade, police