Position Maintained On Web Shop Shutdown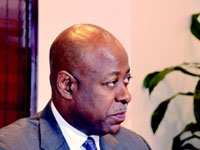 Minister of Tourism Obie Wilchcombe maintained yesterday that web shops would be closed temporarily if the January 28 referendum passes, despite comments from 'Vote Yes' campaign spokeswoman Theresa Moxey-Ingraham to the contrary.
However, Wilchcombe said the government would work to make the period of closure as short as possible to minimize losses and interruption in business.
In December, Wilchcombe, who has ministerial oversight for gaming, said the Christie administration was considering closing web shops for 30 to 90 days after a possible yes vote, to give the government time to regulate the sector.
But earlier this week, Moxey-Ingraham said the pro-gambling group had been given assurances that numbers houses would not close after a yes vote.
"That was never a fact to the best of our knowledge and that is not our government's position," she said.
"In fact, efforts have been made by various members of the government at high levels to assure that would not be the case.
"There will be no temporary shutdown, to the best of our knowledge. We are relying on the word of the government in that regard."
But Wilchcombe said the government's position on the planned closure has not changed.
"The government is putting itself in a position to move quickly if the vote is yes to have laws and regulations put in place to allow for the existence of web shops in a regulated environment," he said.
"If the vote is yes there must be a smooth and seamless transition from unregulated to licensed and regulated.
"You would appreciate that the web shop owners are hoping for little or no downtime. My ministry's responsibility is to ensure a process that has integrity and the rule of law."
Wilchcombe said the government aims to keep the planned period of closure minimal.
"I'm working to lessen the time because I also understand the anxiety of people who are working and you don't want to put them in a position tomorrow if we had to regularize it, they don't want to be out of work for too long.
"But we have to make sure how we do it because you have to determine how many licenses you're going to give, if you give five and six licenses then how is it going to work for the rest of the islands? "Are you going to franchise it? How are you going to do it? So all these things are being considered."
Wilchcombe said his ministry is also reviewing draft computer wagering legislation left in place by the Ingraham administration.
"The draft contains regulations that we must consider," he said. "The integrity of the process is fundamental."
The advanced poll for the referendum is set for Monday.
Voters will be asked whether they want web shops regulated and taxed and if they support the creation of a national lottery.
Prime Minister Perry Christie has said on several occasions the government would permanently close web shops if the referendum fails.
By Taneka Thompson
Guardian Senior Reporter

Obie Wilchcombe, web shops