Pet Dog Shot By Grand Bahama Police Officer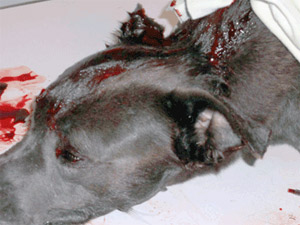 Grace Megan, the dog shot in the head by police on Tuesday, died this morning.
The grey and white pit bull mix was in critical condition and under 48-hour watch.
Elizabeth Burrows, managing director at the Humane Society of Grand Bahama (HSGB), who brought the incident to the public's attention, released a brief statement an hour ago following the tragedy.
"We are so sad to report that Grace Megan died this morning. We will continue to push not only for answers, but for meaningful change so that this kind of tragedy never happens again," she said.
Animal lovers expressed outrage after learning of the incident and that police refused to allow the pit bull to be removed from the scene and receive emergency care.
"She's not conscious, but they have her on medication," Burrows told The Freeport News yesterday. "She's not in pain, she's not suffering and so we're trying to give her every chance we can.
"The 48 hours are critical and she's almost there, so we are more hopeful today than were but she's not out of the woods by any means."
News of the shooting spread after facebook users read and commented on Burrows' post in which she demanded answers for the public, the HSGB family and Grace Megan.
The incident reportedly occurred around 1:00 p.m. in Imperial Park when police were called to the area.
According to Burrows, who was also called to the scene reportedly by her staff, the two dogs lived a few houses down from where the injured one was discovered.
The dogs belong to a member of her staff and somehow got out of the fenced yard, she said.
The owner was at worked when she learned of the shooting from a neighbor via a telephone call.
Burrows said she was in the downtown area and immediately rushed to the dog's rescue when she found the dog a few houses away from its home.
While there are reportedly conflicting stories as to what actually transpired just before the shooting, Burrows said she was finding great difficulty in believing the two-year-old dog, which she knew from a pup would try to harm anyone.
Both Grace Megan and the five-year-old dog, which got away, were adopted from the Humane Society.
"They're not big dogs, they're probably 45 lbs.," she said.
The injured dog was lying on the ground and bleeding from her face and her rear flank, according to Burrows.
Two police officers were on the scene.
"One of the officers admitted to shooting the dog. he said the dog had attacked him," she said.
"…I said the dog is still breathing; she needs medical attention. He said you can't move the dog because we're waiting for the evidence unit to get here."
Burrows said she insisted, however, that the dog needed to be transported and pointed out to the officer that had it been a human being on the ground still alive he would have to call an ambulance.
She then called 911, reported where she was, what had happened and requested an explanation as to why she wasn't being allowed to transport the dog to receive medical care.
While waiting for a call back from the 911 dispatcher to confirm whether she would get clearance, Burrows said two other HSGB staff arrived and the dog began seizing and she informed the officers that they were removing the dog, they could arrest her at the shelter and she left.
Burrows is questioning why police failed to call the HSGB like they have in the past in similar circumstances.
"We've told them we will respond because we don't want them shooting dogs. My concern is that this whole thing could have been avoided," she said.
"We know when they get a call they have to respond, but they did not call us this time."
Burrows said while Grace Megan is still critical, it is a miracle she is still alive.
"Her skull is fractured; the bullet went through the top part of her brain and exited the back of her head."
Medical Director and Staff Veterinarian Dr. Dawn Gibbs and her staff are keeping tabs on Grace Megan throughout the night.
"We don't know if she will survive. If she wakes up, we will have to see then what kind of damage there is and take it from there," Burrows said.
A report has been filed with the police and Assistant Commissioner Emrick Seymour confirmed he has assured Burrows that a full-scale investigation will be launched into the incident.

animals, crime, incompetence, police, society, stupidity