$2 Million In Cocaine Seized Off Inagua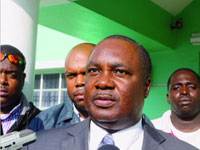 Days after police confiscated $800,000 worth of cocaine from a Haitian vessel off Inagua, officers hauled in $2 million worth of cocaine from another Haitian vessel off Inagua on Monday.
The latest drug find, a total of 128 kilos of cocaine, is the largest cocaine seizure for the year so far, according to Superintendent Samuel Butler, who heads the Drug Enforcement Unit (DEU).
DEU officers transported the drugs to New Providence yesterday.
According to police, DEU officers along with officers from Operation Bahamas Turks and Caicos (OPBAT) conducted a search of a blue and yellow 75-foot Haitian vessel "Poseidon" at Matthew Town, Inagua, on Monday evening, and discovered the drugs in various hidden compartments.
As a result, five people were arrested — one Bahamian and four Haitians.
The suspects were also flown to New Providence yesterday where they will remain in custody. Butler said they could be charged as early as today.
The arrests came after police arrested six Haitian men who were allegedly caught at Great Inagua with 49 kilos of cocaine.
According to police, officers arrested the six men around 4 p.m. on Thursday.
The men were onboard a blue and white 89-foot wooden vessel called "Trinity".
The suspects were flown to New Providence last week and charged with drug-related offenses on Monday.
Police said it is too early to tell whether the two cases are connected.
In its last report, the US Department of State identified Haitian and Haitian-Bahamian drug trafficking organizations as major contributors to the drug trade in The Bahamas.
The 2012 International Narcotic Control Strategy Report said, "Haitian and Haitian-Bahamian drug trafficking organizations continue to play a major role in the movement of cocaine from Hispaniola through The Bahamas. Investigations of these organizations are hindered by an enduring lack of Creole speakers within the DEU.
"Bahamian law enforcement regularly discover drugs during inspections of Haitian sloops that continue to enter Bahamian waters despite being officially prohibited from doing so."
However, all of the suspects arrested are presumed innocent until proved guilty in court.
Butler said that the discovery of drugs on Haitian sloops has been a long-standing problem in The Bahamas.
"It's been going on for quite a while and we are always concerned," he said. "We are certainly concerned about the trend that we are seeing developing in a consistent fashion."
Butler said the DEU has recruited several officers who can speak Creole. "So we are better off this year than we were last year," he said.
US anti-drug-related agencies estimate that there are 12 to 15 significant drug trafficking organizations operating in The Bahamas.
By Krystel Rolle
Guardian Staff Reporter

cocaine, Drug Enforcement Unit, Inagua