Gay Marriage Coming To a Church Near You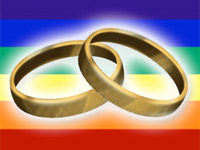 Chief Justice Sir Michael Barnett has predicted that the Bahamian courts will soon have to address the issue of same-sex marriages.
"I also have no doubt that in deciding the issue we will have respect for the decisions that emanate not only from the Commonwealth countries like Canada and Australia, but also from decisions of the courts of the Unites States of America," said Sir Michael at a Bar Association luncheon at the Sheraton Resort on Friday.
Sir Michael's comments came two weeks after Anglican Bishop Laish Boyd recommended the constitution be amended to reflect that no one should be discriminated against based on sexual orientation.
Boyd, who presented his recommendations to the Constitutional Commission on February 1, also wants the terms of discrimination expanded under Article 26 (3) to include protection from discrimination on the grounds of language, disability or medical condition.
However, Boyd said he does not believe same sex marriage should be included.

church, court, homosexuals, law