Gov't Pledges Not To Increase Taxes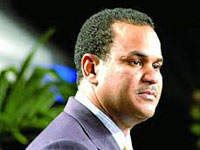 The Bahamian government says it will not increase taxes despite inheriting nearly US$100 million in unpaid bills by the previous government. Minister of State in the Ministry of Finance, Michael Halkitis, speaking during the debate on the 2012/2013 Mid-Year Budget Statement on the six months ending December 31, 2012, said the unpaid bills include more than US$63 million in unpaid cheques and US$23 million in expenses from the 52 weeks jobs programme.
"We remain confident however, that the government's prudent fiscal stewardship of the economy will lead the rebound of the economy of The Bahamas through a restructured fiscal strategy and embarking on a pro-growth economic strategy involving revitalising the tourism product through the attraction of new foreign direct investment and subsequent jobs creation. "
Halkitis said that in the face of weaker economic growth and under-performing public revenue, the government will reduce its short term financing facilities with a medium to long-term consolidation plan of public finances. "This strategy we believe will return the government to a more sustainable and desirable fiscal position," he said, adding that in addressing the current fiscal challenges, the government will initiate Real Property Tax reform measures to modernise that department's administration infrastructure.
"Additionally, the government will reform the administration of the system of customs collection of fees. The government will also enforce fiscal discipline across all government ministries and public corporations. The Ministry of Finance will be restructured to strengthen its organisational capacity to facilitate this."
Halkitis said there were also plans to further develop the tourism industry adding that the "government is happy to report that an agreement has been reached between Hutchison Whampoa and the Canadian Travel Group Sun Wings for the refurbishment of the Reef Village, a project that will create some 1,000 jobs on the island of Grand Bahama.
"All indications are that the economy of The Bahamas has turned the corner and the government remains confident and optimistic that our best years are ahead of us. "These are not unchartered waters for the government as we facilitated the turnaround of the Bahamian economy between 2002 and 2007 and God willing we will do," he told legislators.
By Guardian Media

taxes