Lamm Found Guilty In Drug Case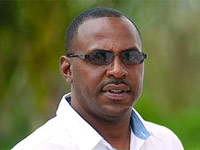 A Cabinet minister's campaign general was Monday sentenced to one year in prison on a charge of drug possession with intent to supply.
Carlos Lamm, who spearheaded the election campaign of Education Minister Jerome Fitzgerald and played an instrumental role in the government's Abaco by-election campaign, would serve an additional year in prison if he fails to pay a $5,000 fine.
Deputy Chief Magistrate Carolita Bethell found Lamm guilty of having three-and-a-half pounds of marijuana with intent to supply.
Police charged Lamm and his girlfriend, Laticha McKenzie, with whom he has a seven-year-old daughter, in relation to the December 2009 seizure.
According to the evidence, Lamm threw a drug-filled bag from the rental car he was driving while being pursued by the police.
Lamm then jumped out of the moving car and left McKenzie and their daughter, then four, inside. The car came to a stop when it rolled into a log that blocked an entrance on the Saint Augustine's College (SAC) grounds at Bernard Road, the court heard.
Bethell acquitted McKenzie after finding that she did not have knowledge and control of the drugs.
Bethell told Lamm that it was sad that he would "indulge in criminal activity", despite having his own business.
The government awarded Lamm's company, JFK Construction, school repair contracts worth more than $100,000 after the Progressive Liberal Party (PLP) won the May 2012 general election.
Bethell said it was "cowardly" of Lamm to leave a woman and small child in the car. Lamm's lawyer, Jairam Mangra, said he was a productive citizen, who should not be sent to prison.
McKenzie, who was represented by Murrio Ducille, wiped tears from her eyes as Lamm was cuffed and taken into a holding cell.
Artesia Davis,
The Nassau Guardian

court, drugs