Migratory Behavior Of Oceanic Whitetip Sharks Revealed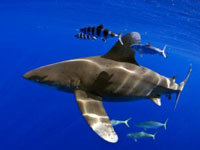 As the nations of the world prepare to vote on measures to restrict international trade in endangered sharks in early March, a team of researchers has found that one of these species — the oceanic whitetip shark — regularly crosses international boundaries. Efforts by individual nations to protect this declining apex predator within their own maritime borders may therefore need to be nested within broader international conservation measures.
The research team, which included researchers from Microwave Telemetry, Inc., the Cape Eleuthera Institute, and the Institute for Ocean Conservation Science at Stony Brook University, attached pop-up satellite archival tags to one male and 10 female mature oceanic whitetip sharks off Cat Island in The Bahamas in May 2011, and monitored the sharks for varying intervals up to 245 days. The tags recorded depth, temperature, and location for pre-programmed periods of time. At the end of the time period, the tags self-detached from the sharks, and reported the data to orbiting satellites.
Their findings, published online February 20 in the journal PLOS ONE, show that some of these sharks roamed nearly 2,000 kilometers from the spot where they were caught, but all individuals returned to The Bahamas within a few months.
"While the oceanic whitetip shark is one of the most severely overexploited shark species, it is also among the least studied because it lives much of its life far from land in the open ocean," said Lucy Howey-Jordan, scientific liaison for Microwave Telemetry, Inc. and lead author. "Before this study and our ongoing research, very few of these sharks had been fitted with satellite tags, and the data we obtained will help establish new conservation measures."
All the tags, except the one attached to the male shark, reported data. Of the eight tagged oceanic whitetip sharks tracked for more than 31 days, three stayed within or very near The Bahamas Exclusive Economic Zone (EEZ) for their entire tracking period. The other five sharks, after an approximate 30-day period of residency within 500 kilometers of the tagging area, made long-distance movements outside of the EEZ, with one traveling as far as Bermuda. The fact that all these tagged mature female sharks returned to The Bahamas provides the first evidence of return-migration in this species. Additional findings that were surprising to the scientists included the sharks spending an average of 68 percent of the monitored time in Bahamian waters, and that these sharks, normally found near the ocean's surface, made dives of approximately 1,000 meters, possibly related to feeding behavior.
"Although these sharks are relatively safe from fishing in Bahamian waters, our study shows their long-range roaming takes them across the boundaries of different countries and into the high seas where they still encounter fishing gear set for other species," said Dr. Demian Chapman, an assistant professor in the School of Marine and Atmospheric Sciences and assistant director of science at the Institute for Ocean Conservation at Stony Brook University. "If we want to continue to see these animals in our oceans, fishing nations will have to work together to protect this species, and monitoring of trade and enforcement measures will need to be coordinated on an international level."
By Science Daily

migratory behaviour, Oceanic whitetip shark