Munroe: 'Free Choice' In Web Shop Case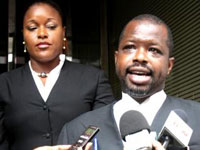 Papers that will be filed today in support of legal action taken by a group of web shop bosses will contend that Parliament has no right to dictate to citizens how they should and should not spend their money for entertainment purposes, according to attorney Wayne Munroe.
The argument will center around free choice, among other things, Munroe indicated.
"Not only are we saying what they do is not within the [Lotteries and Gaming] Act, but we're also questioning the ability of Parliament to make the Act," he said.
"If people sat and thought about it, it would be obvious. Gaming involves spending your money, so if the government can tell you how to spend your money in this form of entertainment they would be able to tell you in other forms of entertainment and how to spend your money generally, and nobody would accept that they could do that."
Munroe added: "Thoughts about morality do not matter either because then they would be able to say that Parliament can pass an act that nobody can give money to your 'sweetheart' because they consider that immoral too.
"It is in my mind going to an issue of free choice and personal liberty and in some jurisdictions they would say you can make laws to protect public morality. Well, that can't apply here because we have a number of casinos in operation.
"And then they would say public safety. Well, that can't apply because we have a number of casinos operating. All the reasons that you would say you can not do that, I don't know that they are applicable, and we're presently looking at that."
Munroe represents Island Game, Island Luck, FML Group of Companies, Asue Draw, Whatfall and Chances. Attorney Alfred Sears represents Paradise Games.
As has been widely reported, Munroe and Sears were successful last Wednesday in securing an injunction to prevent law enforcement authorities from shutting down web shop gaming in The Bahamas.
They took court action after the majority of voters who voted in a gambling referendum last week said no to the regulation and taxation of web shops.
Munroe previously said the issues that will be tried are whether what the web shop operators do is caught by the Lotteries and Gaming Act and whether that Act is constitutional.
Munroe said Sears has also indicated that he intends to argue that the operators had a legitimate expectation to operate as they would have met with officials under the Ingraham administration to discuss possible regulation, and their licenses would have remained in place.
CEO of FML Group of Companies Craig Flowers told The Nassau Guardian that web shop operators met with Financial Secretary Ehurd Cunningham and other technical people in the Ministry of Finance over the course of several months under the Ingraham administration.
The former government had explored the idea of regulating web shops and taxing them, but in 2010 then Prime Minister Hubert Ingraham shelved the idea and announced he would put the matter to a referendum if re-elected.
In a press statement released last Wednesday night, Attorney General Allyson Maynard-Gibson explained that the conservatory order granted by Justice Isaacs on Wednesday is only to stand until the applications can be heard and any further order is made by a judge.
"What this means is that the relevant government and law enforcement officials may not take any action to close down web shops or prosecute web shop operators and patrons pending the hearing of the matter by the court," she said.
Maynard-Gibson said the matter will continue after Munroe and Sears have filed their documents today, the Office of the Attorney General has had time to consider them and to file documents in response, if necessary and the court is available for a hearing date.
By Candia Dames
Guardian News Editor

Wayne Munroe, web shops