Nottage Pleased With Pro-Bahamian Policy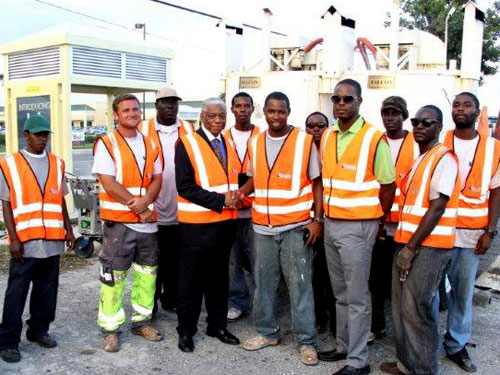 Minister of National Security Bernard Nottage toured Bahamas Striping's work site on Carmichael Road on Thursday and said he was pleased to see the Christie's election promise to put Bahamians first was a success and working. Nottage learnt about Bahamas Striping's plans to hire and train up to 40 young Bahamians by end of 2013 and about the company's expansion into other road maintenance services.
In South West Plaza Minister Nottage met with five new Bahamas Striping trainees, all previously jobless, who began training four weeks ago at Old Fort Bay Shopping Center. Nottage praised Mitchell for sharing his success by training young Bahamians. When asked how it felt to see the Christie government's pro-Bahamians policy working, Nottage replied "good, good, good."
Mitchell claims that were it not for the government's sincere desire to deliver on its election promise to put Bahamians first, these young men would not have jobs or careers. Mitchell was able to hire them because the Christie government policy to put Bahamians first was real and the fact that  his company was starting to get government work, which might previously have gone to foreign owned or the larger Bahamian companies was proof positive of the policy in operation.
"Last year we decided to expand and invest because we felt sure the PLP government would deliver on its promise. Now we see its policy coming true. We're getting more work that used to go to foreigners. So we have the confidence to hire and train young Bahamians to tap into this $4.5 million demand that we expect in the next five years," said Mitchell.
"We took a risk on expensive training to be ready for any public roads jobs. Now the jobs have started coming in and we expect the frequency of bids to grow much greater. These five additional guys are just the start. We expect to create 40 more new jobs by year end. They'll be trained, not only in striping, but as we diversify into new services such as production of wheel stops, construction of sidewalks and highway cleaning, they will have the opportunity to acquire those skills as well," said Mitchell. "This country needs a lot of striping and drains maintenance.
"For 10 years the status quo was that this striping work on public roads would have gone to foreign multinationals almost guaranteed—no questions asked," said Mitchell. "But today, thanks to Christie's government policies, here we are with five new young Bahamians striping a public road. In six weeks we expect to hire five more, if we see the work come in. We'll induct them into our intensive training, not only in striping but also our new services."
"We're glad the Minister for National Security is here to see first hand how the government's policy is helping. This training is what should happen all over the country. You can spend money on building jails or you can spend it on training. Which is better? Because we're now getting work on doing public roads, we can support more than 13 families. And this is a small beginning to greater things," said Mitchell. "We want to thank the Prime Minister for his policy and how it is benefitting my company and these young men's lives."
Mitchell explained how last summer the striping industry suddenly grew. "In our first two years, cozy relationships with foreigners blocked us and Bahamians couldn't stripe their own public roads. They were taking food off our tables. We survived only because of private contractors hired us.  Hot Mix, Hepburn, Knowles, the Trecos, the Moskos and developers like Old Fort kept us going."
"Then in August we showed Deputy Prime Minister Davis how good our quality was and he instantly promised that Bahamians would get the opportunity to work on public roads. That was the real beginning. Now this huge market is not going automatically to foreigners. At last we have Bahamians striping Bahamian roads. That's the way it should have been 20 years ago," said Mitchell.
Nottage agreed with Mitchell that focusing on jobs, training and a skilled, empowered workforce is just what The Bahamas needs to combat crime and help society. "Bahamas Striping is just a small example of what could happen right across the country," said Mitchell. "This government/private sector cooperation has produced positive results quickly," said the 26-year old president.
Mitchell informed the minister of his plans to make Bahamas Striping into a fully-fledged road maintenance company, offering services beyond striping. The company is expanding into sidewalk and curbing construction, manhole and drain cleaning, manhole leveling and the manufacturing of car park wheel stops. Mitchell also announced he will open a second branch in Marsh Harbour, Abaco in June and hire five young Abaconians.
Sean Adderley, Bahamas Striping's Managing Director, said: "Our vision is to create a one-stop-shop for road maintenance.  Except for supplying hot mix, we want to be able to provide anything that a road or parking lot needs. And training is one of the keys. There's nothing in this field that can't be done by good young men such as we're training now," said Adderley.
"Actually, the sky's the limit," said Adderley. "Every week we get enquiries if we can clear drains, supply wheel stops and make sidewalk curbing. Our equipment will soon be in place. We'll be bringing in more certified and experienced trainers for these new services. They'll teach more young men in depth. We think we'll need 40 or more staff within a year, possibly 20 in the other islands including Abaco."
"This is not just sweeping roads—our trainees will learn how to take down these machines, maintain and operate them to stripe roads and car parks," said Adderley. "They're valuable skills where the men can one day own their own businesses."
Bob Bower, Bahamas Striping's Marketing Director, said: "Now we're being told there's a lot more striping and road maintenance work needed in Nassau and the islands. Most airports are in dire need to meet international standards. To meet this demand, we're bringing in another striping trainer to expand the training. To establish this industry for the long term—as the Christie government is encouraging us to do—we'd like to see institutions such as BTVI offering certified courses in road marking and traffic management. Then we could even take our skills overseas. We also want to train young men in traffic management training. Anyone can see we need safety improvements in that area."
Bower said one of the reasons he was inspired by the company was its ability to take young struggling Bahamians and give them a positive base. "One of our key policies is to mentor, train and give young men a second chance in life. Some, not all, have experienced prison. Most of our trainees never graduated from high school. We found them in a state of semi-hopelessness, living day to day. At any moment they could have gone off the rails committing crime. Helping society is not just about spreading money around. It's the knowledge gap. Mentoring and fostering young Bahamians is critical. At Bahamas Striping, you can see how training gives them a sense of self-worth and positive motivation. The help that the Christie government has given in allowing us to stripe public roads immediately benefits these men and their many families," said Bower. "The more we can choose training and skills instead of unemployment and crime, the better our society will be."
Certified striping trainer Brian Bostock from Liverpool, UK was enthused about his new team members and their productive attitude. He found them eager to learn and focused. But they just need the opportunity to get out of the classroom and practice their skills on the roads.
"They seem to respect that this is a place for learning and work and for giving the client a great job without mistakes. I'm pleased how they're shaping up. They've learnt a lot already," said Bostock. "You can see these young men believe in quality and hard work."
The new five-man crew met with Minister Nottage and spoke excitedly about their new prospects. Ashton Bullard, 26, was downsized from Atlantis in 2004 and survived doing small jobs here and there. He said it was good to be stable again. Now he knows how to mark out arrows, stop junctions, pedestrian crossings and how to chalk up a whole parking lot. Bullard's dream is to one day operate the thermoplastic machine himself and have his own crew to supervise.
According to president Mitchell, when Bahamas Striping goes to the Family Islands, they like to hire as many local islanders as possible and make time to teach them about the striping industry. Mitchell's dream is to one day have access to capable, skilled stripers on every island.
By Bob Bower

Bahamas Striping, Bernard Nottage