Orchestra Plays To A Crowd Of Students, Teachers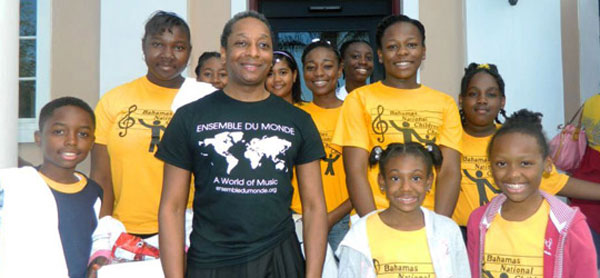 Over 400 students and teachers attended a short concert entitled" Before There Was Mozart" which illustrated the life of Joseph Bologne, Le Chevalier de Saint-Georges, or the Black Mozart.
The afternoon event, proposed by the Nassau Music Society as a part of its Festival of Afro-Caribbean Composers was held at the Performing Arts Centre of the College of The Bahamas.
Audrey Dean Wright, Head of the Music Department at the College spoke to the students on the importance of music, and the careers that exist in that area of studies. She encouraged them to pursue their dreams, as did Joseph Bologne, and to try and succeed in their endeavours.
The Orchestra then performed to a power point presentation of the life of Joseph as a boy from the book by Lesa Kline Ransome. Christina " Chrissy Love" Thompson lent her voice to the event as the narrator.
Excerpts from Mozart, and Le Chevalier de Saint-George were used to illustrate the whole.
Students  had the opportunity to interact with the orchestra after the presentation.
They were then given a free lunchbox from Choices Restaurant and a Chevalier de Saint-George tee shirt designed by T-Rex.
The event was sponsored by The American Embassy, The Lyford Cay Foundation, The Charitable Arts Foundation, Atlantis and the Nassau Music Society's regular sponsors, headed by Societe General Private Banking and Colina, Pictet and Royal Star Assurance.
Students attended from the following schools and youth organisations: Akhepran International Academy, Bahamas National Children' s Choir, Bahamas Youth Orchestra (Duke Errol Strachan); Bahamas Music Conservatory, Focus, Government High School, Bahamas Homeschooling Association, Alliance Francaise des Bahamas, St Andrew's School, St Anne's School, St. John's College, South Haven Christian Academy, Summit Academy, Urban Renewal.
The Nassau Music Society would like to thank all those involved for making this a memorable event for the Youth of The Bahamas, and especially the student volunteers from The College of The Bahamas and the sisters from the Delta Sigma Theta Sorority, Incorporated -Upsilon Zeta Chapter.
The Nassau Music Society

arts, culture, educational, events, music, students, youth