'Pandemonium' Breaks Out Downtown (VIDEO)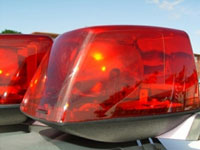 Witnesses claim that "pandemonium" erupted in broad daylight over the weekend when a police officer opened fire on a vehicle fleeing from downtown Nassau.
The shooting occurred around noon at Prince George Wharf and Frederick Street.
The driver of the vehicle allegedly refused to stop, struck the officer with his car, and then attempted to speed off in the midst of downtown traffic.
One onlooker stated that he was "stunned" while another said tourists ran for cover in confusion after hearing gunfire.
"I was thinking, what the hell happened?" a nearby jewelry store employee said.
Crispen Bullard, a construction worker overlooking the action from the roof of a Burger King, served as an eyewitness.
"Offices were trying to stop a grey Honda hatchback," Mr Bullard said. "The fellow opened the door, knocked the police off the bike with the car door, then drove away."
Mr Bullard claims that the car refused to stop, forcing officers to fire a single shot that hit the car's tear tire.
"I've never seen anything like it in my life," Mr Bullard said.
An employee at Bahamia, a clothing store close-by to the shooting, said tourists and shoppers inside the shop were startled by the gunfire and sought refuge in the back of the store.
"It was kind of pandemonium," the employee said. "The tourists started running – they were all the way in the back by the stockroom, hiding in the changing rooms."
According to sources, both the officer and the driver were taken to the hospital and treated for minor injuries. The driver is currently assisting police with their investigations.

downtown Nassau, police, shooting