Police Custody Death: Family Demands Autopsy Report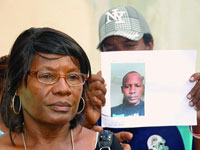 The family of 35-year-old Jamie Smith met with Coroner Linda Virgill and police commissioner Ellison Greenslade yesterday, continuing the search for answers as to how he died.
Smith died at the Central Detective Unit within two hours of his arrest on suspicion of armed robbery on February 8, 2013.
Four officers from the station have been placed on administrative leave.
Christina Galanos, who represents Smith's family, formally requested a copy of the post mortem report pursuant to Section 18 of the Coroner's Act.
According to Galanos, Virgill did not give any indication when the report will be released. Virgill also did not say when Smith's body will be released for burial or the reason for the delay, Galanos said.
However, Virgill said the inquest will be held on March 26 and 28 and April 2 and 4.
Inquests are mandatory when a person dies in the custody of the state.
Galanos said her next move was dependent on the pathologist's findings.
Since a coroner's jury cannot make a finding of homicide, Galanos said if the autopsy showed any malfeasance on the part of police, she would consider filing a private prosecution for murder if the authorities did not take action.
Smith's mother, Earla Dorch, who lives in Hollywood, Florida, arrived in New Providence on Monday. Dorch said the family was "devastated" over Smith's death and needed closure over the unexplained death of an otherwise healthy man.
Smith, who was unmarried, has an 11-year-old daughter, Dorch said.
She told reporters, "It's not a good feeing to know that my son has been dead for almost three weeks and I have no idea how he died.
"A healthy, young man being picked up and taken to the police station, I have no idea how he died. I have no idea why he's dead.
"It's almost three weeks and I still to this day don't know when I'm going to be able to bury him. This is unacceptable to me. As a mother, how can I ever go on without knowing that my son is buried?
"…We can't move on until we know the reason why he's dead."
She said Smith returned to New Providence about a year ago after living in Hollywood, Florida, for 10 years, where he worked as a chef.
The family held a private meeting with Greenslade after leaving the Coroner's Court.
Smith's brother, Tracey Smith, told The Nassau Guardian that Greenslade assured the family that he would "let the chips fall where they may".
Aaron Rolle, 20, who was arrested on February 6, died in police custody at the Quakoo Street Police Station on February 9.
His family has also not received any explanation about how he died.
By Artesia Davis
Guardian Senior Reporter

police custody deaths