'Shocking Revelations' Regarding BTC Deal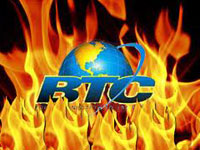 Members of the government's committee engaged in the Bahamas Telecommunications Company (BTC) take back talks have found "shocking revelations" regarding the sale that they believe are so serious the public has a right to know.
Lead negotiator Franklyn Wilson said these findings led the committee of negotiators to recommend to Prime Minister Perry Christie that a parliamentary select committee be appointed to probe the controversial sale of 51 percent of the shares of BTC to Cable and Wireless Communications (CWC) in 2011.
Christie told reporters last week Tuesday that the government is considering causing such a select committee to be appointed.
Though he did not want to preempt any revelations that could come from the select parliamentary committee, when asked if he was surprised at what the negotiation committee discovered, Wilson said, "There is no question. That is why I said this was a horrendously bad deal.
"Our committee recommended [establishing the committee] to the prime minister and we were delighted when he went public and confirmed to the public that we had offered that advice, and I understood him to have said the government can no longer ignore that request."
Asked why the negotiating team made the recommendation to Christie, Wilson said "because we believe that the public has a right to know certain things that we now know and we believe the public ought to find it out in a transparent and proper manner.
"I am not sure the media specifically made note of the fact that a parliamentary committee with powers to send for persons and papers is a very, very significant instrument," he said.
Wilson said the former administration will have plenty opportunities to defend itself.
"The advantage of a parliamentary committee is that the country is not going through the full expense of a commission of inquiry," he said. "A commission of inquiry is a different exercise. It is expensive; it is far more time consuming."
While on the campaign trail in 2012, Philip Brave Davis, who is now deputy prime minister, promised voters he would push for the establishment of a commission of inquiry to probe the sale within the PLP's first 100 days in office.
But no such inquiry was established. Wilson could not say when the negotiating team will meet again with CWC representatives to continue discussions on the government's bid to become a majority owner of BTC once again.
By Candia Dames
Guardian News Editor

BTC, CWC, Darren Cash, Franklyn Wilson