Taniesha Rolle Wins Sr. Young Chef Contest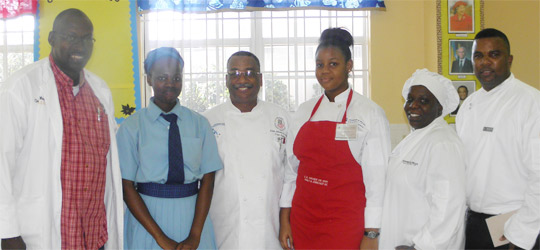 Taniesha Rolle of C.R. Walker Senior High School emerged the winner of the New Providence Senior Young Chef contest held recently at C.C. Sweeting SHS and will compete in the National Championships scheduled to be held on March 14th when $3,300 in scholarships will be at stake.
"Overall the students were very keen and innovative with their dishes", said Ministry of Education Home Economics Officer and
co-ordinator for the Championships.  The event, now in it's 21st year, is sponsored by Mahatma Rice and Robin Hood Flour, both distributed in The Bahamas by Asa H. Pritchard Ltd., and is organised by Keith Parker, MBE, of P.S. Advertising and Public Relations.
Taniesha won with 674 points, gaining 333 points for her "Spicy Coconut Conch Jambalaya with Tropical Relish" and 341 points for "Bahama Chocolate Lava Cake" judged "Best Mahatma Rice" and "Best Robin Hood Flour" dishes, respectively.
Chef Edwin Johnson remarked "She was well organized, executed good skills which were gained through work experience at Graycliff Restaurant and also an attendee at the Johnson and Wales University summer Young Chef programme. She was creative with both dishes. Presentation was clean and neat, taste and flavors were excellent.  Looking forward to seeing her at the finals".
Runner up was Oralnique Burrows of Anatol Rodgers with 645 points.  She scored 324 for her "Coconut Ginger Risotto Balls with Conch & Plantain Ragout" and 321 points for "Mango Pudding".
Third place went to Warrenisha Rolle of R.M. Bailey SHS with 615.5 points. Warrenisha's "Curry Spicy Conch Rice Balls" scored 287 points. Her "Savory Conch Crepe", scored 328.5 points.
The top two go on to the 21st Annual Mahatma Rice/Robin Hood Flour National (All Island) Sr. Young Chef Championship, with $3,300 in scholarships at stake on March 14th. There will also be additional prizes from Lincoln College of Technology with a $10,000 scholarship awarded to the 1st place national winner and a one week Career Exploration Programme from Johnson and Wales University for the top three overall winners.
Schools choose their own Champion Young Chefs who compete on each island or, district.  Each island or district sends its own champion to compete for the title of "Bahamas Champion Young Chef".  This year's final will be hosted at C.C. Sweeting Senior High School in Nassau, on Thursday March 14th.
Judging the senior Young Chef Championship in New Providence were Chef Edwin Johnson, Gilgan Holdings; Executive Chef Emmanuel Gibson, Ocean club;  Chef Keisha Bonimy, Private Chef; and Chef Devain Maycock of the Culinary Hospitality Management Institute.
P.S. News/Features
2013 Sr. New Providence
Taneisha Rolle of C.R. Walker SHS and Oralnique Burrows of Anatol Rodgers High School placed 1st and 2nd overall at the 2013 Sr. New Providence preliminary.  They both advance to the All-Island finals scheduled for March 13th-14th. Pictured from left to right are Chef Devain Maycock, Culinary Hospitality Management Institute (CHMI);Oralnique Burrows, 2nd Place Winner; Chef Edwin Johnson, Gilgan Holdings; Chef Keisha Bonimy, Private Chef; and Executive Chef Emmanuel Gibson, Ocean Club. Photo by Deanndra Ferguson, P.S. News/Features

contests, food, students, youth