Artistic Boom On Bahamas Horizon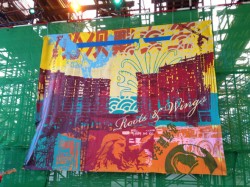 Currently, the 1,000-acre construction site in Nassau that will transform into the Baha Mar Hotel and Casino contains piles of steel and vats of concrete, but also an immense opportunity for the region: more jobs, a torrent of tourists, and the evolution of Cable Beach into a chic "Bahamian Riviera." Yet the $3.5 billion luxury enclave, with four hotels and a 100,000-square-foot casino set to open at the end of 2014, is also promising to double down on contemporary art.
At Baha Mar's recent "topping off" ceremony—a centuries-old act celebrating the completion of a building's highest floor—Sarkis Izmirlian, the resort's CEO, announced the property would feature a gallery space and artwork created by local artists.
The National Art Gallery of the Bahamas, housed in a sun-yellow 19th-century house, borrows works from the D'Aguilar Art Foundation for its exhibitions, and both will loan to Baha Mar.
Indeed, this means another outlet for local artists, like the late Amos Ferguson, whose intensely colorful and insightful paintings often had his phone number written in careful print at the bottom, should anyone have wanted to get in touch. Or Antonius Roberts, a painter and sculptor who last year opened the charming Hillside House, a studio and gallery space, just a stone's throw from the National Art Gallery.

art, Baha Mar, culture