Eustachy To Coach Bahamas Basketball Team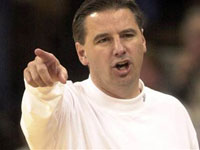 Colorado State University's mens' basketball coach Larry Eustachy will become coach of the Bahamian national basketball team this summer after CSU wraps up its regular season.
According to The Coloradoan, Eustachy had agreed to terms with the Bahamas, but an official  announcement has yet to be made. He will remain CSU's men's basketball coach, and the summer position isn't expected to interfere with his duties in Fort Collins.
"It hasn't been announced yet, but I'm going to be the coach of the Bahamas National Team. That isn't just to go lay out on the beach; that's to profit Colorado State," Eustachy said. "I'm not doing (things like this) because I'm going to leave in a year. I could see us having a sister school in the Bahamas. I am going to be seeing all of these great young players from all over."
CSU has two international players on its roster with Gerson Santo (Brazil) and Joe De Ciman (Canada). The possibility of adding more from the Bahamas excites Eustachy, who said not having a language barrier will help.
The first-year CSU coach also mentioned the grandfather of Rams' point guard Jon Octeus is from the Bahamas, so there's a chance he could play with Eustachy this summer.
The Bahamas will compete in the FIBA Americas Championship, Eustachy said, which takes place Aug. 30-Sept. 11 in Caracas, Venezuela.
CSU played an exhibition game in Nassau, Bahamas against the Caribbean nation's all-star team on Aug. 6 and won, 95-80.
By Matt L. Stephens
Coloradoan.com

Colorado State, Larry Eustachy