First Place Finishes For Cycling Phenom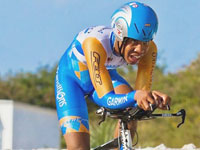 18-year-old junior cycling sensation Jay Major recently traveled to Tampa, Florida, and continued to impress fans and competitors.
Racing in his first international event of the year in the Pinellas Park Circuit, Major snagged a pair of first place finishes in the 17-18 junior division and two top 20s in the category 2-3 at the Cigar City Criterium and Street Festival.
"I rode smart and sat back and watched the race as it unfolded in the front of me, waiting for my opportunity to present itself," Major told The Tribune. "It came in the form of a field sprint to the line which I came out on top."
Major, accompanied by his father and coach Jeff Major, did not have much time to celebrate his victory. Following his win, Major had to return to the starting line for the first cat 2-3 race.
"I was right there sprinting and got a 22nd place finish, which qualified me for the amateur finals that night," he told The Tribune. "This race consisted of all of the best riders in all of the categories all together in one big race. It was a 40 lap event, equivalent to 35k race."
Major, an Acquinas College student, soared through the finish line with the sprint going at 40-plus miles per hour, settling for 27th place.
On Sunday, the racing moved to a different venue in Pinellas Park where Major picked up his second consecutive victory in the junior division.
"It was another fast and extremely aggressive race with attacks coming from every direction," Major told The Tribune. "With most of the big junior teams consistently attacking, I just sat in and covered the attacks allowing no one to get a gap. This soon discouraged them from attacking and shortly thereafter, the race turned in my favour."
The Majors are scheduled to return to Florida to compete again during the first weekend of April.

cycling, Jay Major