Oceania Investors 'Apprehensive' Of Negotiations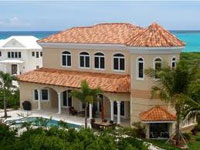 Homeowners in the controversial Oceania Heights Development on Exuma are growing "apprehensive" and feel shut out from the negotiation process, according to their spokesperson.
Chris Flemming, an American investor in Oceania Heights, said Deputy Prime Minister Philip Brave Davis has met with the lawyers representing the developers on several occasions. Each time, however, homeowners have been barred from the process.
Acknowledging that Davis has taken a valuable leadership role, Flemming told Guardian Business that international investors are simply hoping to be updated on the proceedings.
"I haven't heard anything that has come out of those conversations," he said. "I feel that when the DPM took control of this, we have always been very optimistic. He has been up front in trying to get us through the process. Since our meeting last month there has been no communication to speak of."
The homeowners are not the only ones seeking answers.
According to a release from the Canadian High Commission, which has been obtained by Guardian Business, the new Canadian High Commissioner to The Bahamas Robert Ready is also requesting an update "from Bahamian authorities on the situation surrounding the Oceania Heights real estate issue".
Back on January 28, Guardian Business exclusively attended a face-to-face meeting between international investors and the principals of Oceania Heights.
The encounter was mediated by Davis and the head of the Exuma Chamber of Commerce, Pedro Rolle.
The principals of Oceania Heights have been accused of double-selling lots, failing to process stamp duty and provide official documentation and falling behind in the construction of amenities. It has also been alleged that lots were sold prior to Oceania Heights receiving subdivision approval.
The developers recently won an appeal at the Privy Council giving them official entitlement to 11 disputed lots, which could go a long way to settling the issue of double-sold properties.
However, many grievances still remain.
Anthony Thompson and Howard Obront, the principals of Oceania, have denied any wrongdoing.
Flemming told Guardian Business yesterday that "not everyone wants their money back". He speculated that investors representing around $7 million are seeking a refund. The rest, he said, simply want full title and for certain perceived obligations to be fulfilled.
George Smith, a former member of Parliament (MP) for Exuma for 29 years, called Davis a "very astute person" who should shepherd a deal for the international investors.
Smith told Guardian Business that Oceania has indeed cast a dark cloud over the island and its suitability for investment. Exuma remains a top destination for second homes, he added, and Oceania's unfortunate situation must be dealt with as quickly as possible.
"The government will find a common ground and settle this. I think Davis will guide them in the right direction," he said. "It has to be resolved to repair the image of Exuma as a good place to invest."
By Jeffrey Todd
Guardian Business Editor

Exuma, Oceania Heights