Parents Cautioned To Supervise Children Online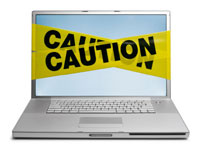 Minister of Social Services and Community Development, Melanie S. Griffin, urged parents to pay closer attention to the sites their children are visiting online, adding that more and more unscrupulous persons are using those sites to advance and promote child abuse.
Mrs. Griffin said while some of the technology was initially designed to have a beneficial effect on world populations by bringing the world closer together and allowing for faster and greater research and other positive opportunities, others are using it for more sinister plans.
Minister Griffin also urged parents to be more attentive to what their children are reading, watching on television, and/or listening to on radios and other devices, as these are additional areas where child abuse can occur.
"We must all therefore be vigilant with regards to the sites our children are visiting when they are online," Mrs. Griffin said. "We must also be mindful of all of the other applications and devices that allow children to come face-to-face with would-be child abusers and other persons and so we must be careful in an effort to protect our children."
Minister Griffin's comments came during a visit to Government House on Thursday where she pinned a Blue Ribbon on the lapel of His Excellency Sir Arthur Foulkes, Governor-General of the Commonwealth of The Bahamas, ahead of celebrations surrounding Child Protection Month, which will be celebrated globally and in The Bahamas during the month of April.
Mrs. Griffin was accompanied by a delegation from the Ministry of Social Services and Community Development; Department of Social Services; the Child Protection Committee; the Suspected Child Abuse and Neglect Unit (SCAN) of the Ministry of Health/Department of Public Health and the National Child Protection Council.
Representatives from these agencies, in addition to those from the Kiwanis Club, Child Evangelism Fellowship Bahamas, Children's Hour Media Ministries and the R.E.A.C.H. Programme, all sit on the Child Protection Committee.
The Blue Ribbon is the symbol of Child Protection/Awareness worldwide. Similar pinning's were done on Prime Minister Perry Christie; Deputy Prime Minister Philip "Brave" Davis; Leader of the Opposition Free National Movement, Dr. Hubert Minnis; Cabinet Ministers and Members of Parliament.
Mrs. Griffin said Child Protection is a year-round exercise for the Child Protection Unit of the Department of Social Services. April is used globally and locally to highlight the many activities, strategies, policies, programmes and services used to help combat child abuse.
Child Abuse, Mrs. Griffin continued, comes in many forms and shapes with the four major categories being sexual abuse, physical abuse, emotional/psychological abuse and neglect.
Almost 1,300 cases were reported in The Bahamas for the years 2011 through 2012 with many more cases going unreported.
Minister Griffin said the Government of The Bahamas, through her Ministry, will do everything it can to make "all Bahamians aware of this scourge that occurs in this country" and to reduce the number of incidences of child abuse, whether its sexual abuse, neglect, physical and/or emotional abuse, through education and awareness campaigns.
"We must continue to do all we can to reduce the incidences of child abuse because as long as there is one child being abused, our work is not done," Mrs. Griffin said.
Mrs. Griffin said her ministry anticipates that the Blue Ribbon will bring additional attention to Child Abuse and the country's Child Protection efforts.
"Just as most of us recognize the Red Ribbon as being representative of the fight against HIV/AIDS in The Bahamas and Pink as the fight against Cancer, Blue represents the fight against Child Abuse, not just in our country, but globally, and we are hoping that our people everywhere will get a blue ribbon; will wear a blue ribbon, and that it will be a reminder to them to be our eyes and ears whenever and wherever they see child abuse happening in our country and that they will report it to Social Services," Mrs. Griffin added.
By Bahamas Information Services

child abuse, internet safety, Melanie Griffin