Rotary Joins Auto Club For Car Show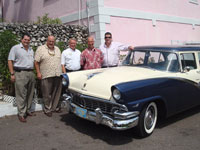 On Saturday, March 23, 2013, the Rotary Club of East Nassau will be partnering with the Antique Auto Club of The Bahamas at Arawak Cay for the Antique Auto Show and Cookout.
The Rotary Club of East Nassau will be operating several games for children at the auto show, while selling cotton candy, popcorn, and ice cream.
"This partnership is a natural fit," Rotary Director Paul Cartwright said. "The Auto Club helps us with our Annual Bed Race and we are happy to assist by providing something different at their Annual Auto Show. Both clubs are working towards the same end; that is to raise funds to benefit the less fortunate in our Community."
The Rotary Club of East Nassau was formed in May 1963 and has over 100 members. The Rotary Club will be celebrating its 50th anniversary this year.

cars, rotary club