Atlantis Upset Over Immigration's Tourist-Disrupting Tactics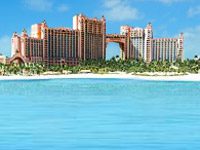 The country's largest private sector employer is "extremely upset" about the Ministry of Immigration's actions on Tuesday, although it will seek to deal with the matter "as privately as possible".
George Markantonis, the president and managing director at the mega resort, said foreign workers awaiting the renewal of their work permit applications is not uncommon. He condemned the "heavy-handed behavior" of at least two officials from the Ministry of Immigration.
"We are dealing with this as privately as possible with the relevant authorities, but I can tell you we are extremely upset," he told Guardian Business. "It is the heavy-handed behavior in front of tourists that is extremely unprofessional."
On Tuesday, two government workers entered the sea lion attraction at Atlantis and disrupted an "interaction" in progress between the sea lions and tourists.
According to Atlantis employees familiar with the matter, a young American woman was wrenched from the interaction and escorted off property to the Department of Immigration. Her work permit application was denied in February. This decision has been appealed by Atlantis and it remains under review.
Officials later stated that a mistake had been made. The U.S. citizen returned to work.
In a statement Minister of Foreign Affairs Fred Mitchell said the matter has been "satisfactorily resolved".
He fell short of a formal apology towards Atlantis.
"Immigration is a law enforcement agency. There are rules that apply. All non-national employees in The Bahamas must be holders of work permits to be gainfully employed and they ought to have it in their possession as evidence of the lawful right to be in The Bahamas," he said. "That is the law."
He said it is "regrettable" that on some occasions the execution of policy causes some "confusion".
"This appears to be the net explanation for the compendium of circumstances that unfolded at Atlantis property yesterday. The conspiracy theorists should not go into overdrive on this," he added.
The foreign worker is a specialist dealing with marine mammals, such as sea lions. Markantonis recently told Guardian Business that the mega resort has nearly 8,000 employees and related associates. There are 74 work permits on the books, a figure that is actually less than the number that the resort is entitled to under its Heads of Agreement.
Winston Rolle, a businessman and the former CEO at the Chamber of Commerce, said the image being portrayed by the Christie administration to the outside world is "scary".
Rather than statements and sudden actions, he called on the Department of Immigration to compose a realistic policy towards foreign workers. The process needs to be clear, fair and transparent, he said.
"I think it is very damaging," he noted. "If I am sitting outside of The Bahamas, what is being portrayed is very scary. It needs to be dealt with quickly to alleviate any worries we are anti-foreign and there is no opportunity to do business in The Bahamas."
Dionisio D'Aguilar, a prominent businessmen and another former chief at the Chamber of Commerce, called the incident "absolutely shocking and appalling".
Atlantis is an outstanding corporate citizen that has created unprecedented economic activity, he argued, and the mega resort should have been dealt with in a respectful manner.
He told Guardian Business that recent government statements and policy towards work permits has spilled over and caused some Bahamians to "go rogue".
"All of this negative rhetoric towards the business community by the Ministry of Immigration has empowered the bureaucrats," he said. "The immigration officials behind this should be terminated immediately."
D'Aguilar added that Tuesday's incident has sent a message to the foreign and domestic business community.
"It has put a dagger in the heart of creating an environment where it is time to go to the bank and expand your business. The message sent to the domestic investor is if you need foreign talent, don't bother because you won't get a permit. For foreign investors, it sends the message that it is such a bumpy road to get a permit that maybe you should take your business elsewhere," he said.
Jeffrey Todd
The Nassau Guardian

atlantis, immigration, toursim, travel