Bay Street Marina to Open in Historic Nassau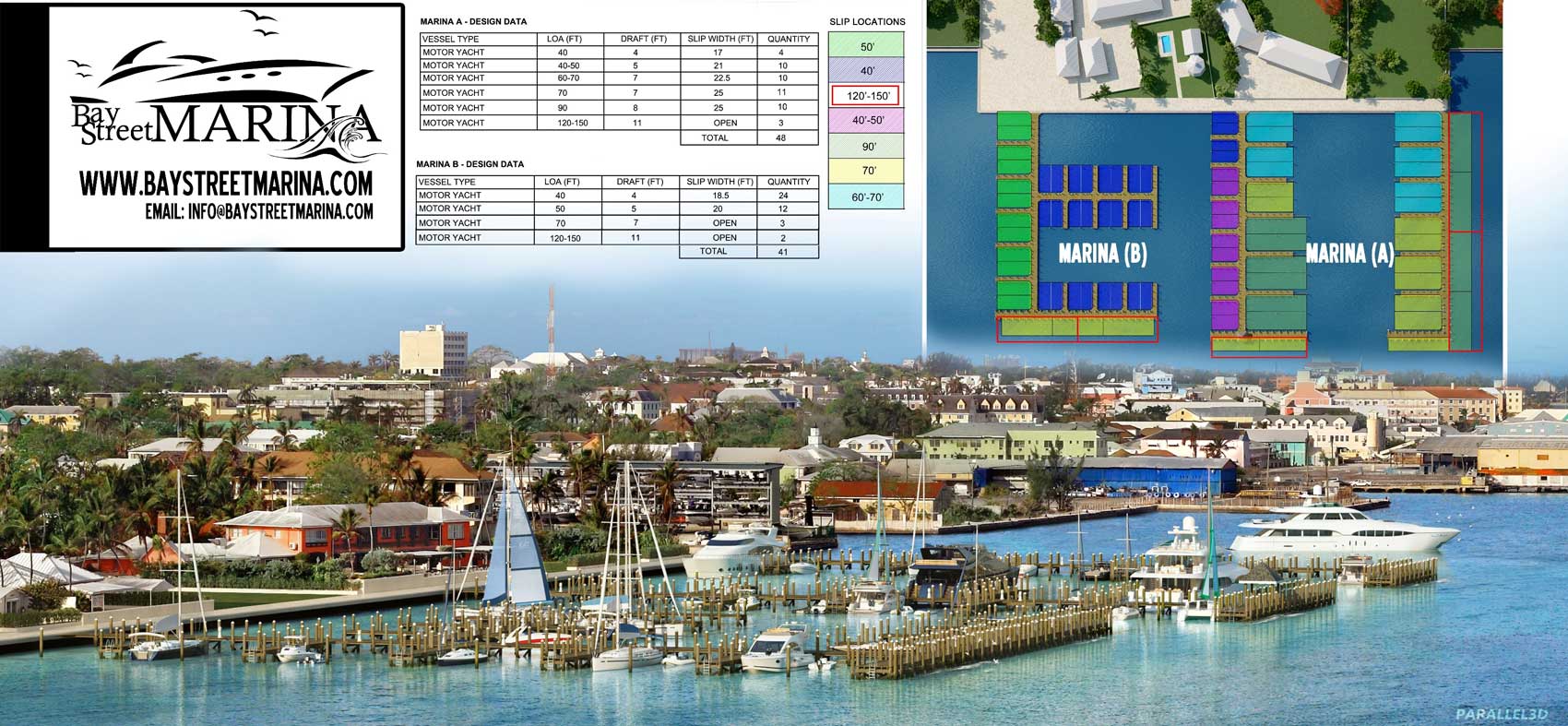 A new $6 million state-of-the-art marina is slated to open by mid-June in the heart of historic Nassau.
Called Bay Street Marina, the 90-slip facility capable of handling vessels up to 150 feet in length is located on Nassau harbour directly behind — or in front of — Luciano's of Chicago and the adjacent Green Parrot Restaurant on East Bay Street. There is a floating dock for temporary tie-ups for restaurant-goers arriving by boat.
The multimillion investment, say owners and developers — a joint venture between the Bethell and Symonette families — is reaffirmation of their commitment to the revitalization of historic Nassau.
"With shipping moved from downtown Nassau, you can feel Nassau coming back to life," said John F. Bethell, of Bethell Estates. "Fortunately, the bones of this city of remarkable architectural treasures, though tired, are still strong. As we look around us, we believe that this marina is the first in what we hope will be a series of investments over many years that will help Nassau realise her full potential as a vibrant, living city where people want to be to work, live and play."
Bay Street Marina consists of 6000 linear feet, all planked in long-lasting Brazilian ipe wood, with spaces allotted for vessels of between 40 feet and megayachts up to 150 feet. Designed by BHM Management and built by Mosko Marine Construction, the marina will eventually include a pool for guests, fitness centre, full showers and laundry facilities, on-the-spot yacht wash down and cleaning services, a high quality reverse osmosis plant, full security with CCTV, free wi-fi, wastewater disposal facility, 24-hour service and more. The marina will not sell fuel. A dock master's office is slated for construction later this year.
Equipped with fresh water at each slip and electrical supply from 30 amp to direct feeds of 480v, the transient marina rates are $2.50 per ft/per day with long-term leases available through Bahamas Marina Management Co.
Reservations will be available soon through the website, www.BayStreetMarina.com, which is scheduled to go live in June.
Diane Phillips and Associates
Caption: Artist's rendering of new $6 million, 90-slip  Bay Street Marina set to open soon in historic Nassau behind Green Parrot and Luciano's of Chicago restaurants.
Click Image To Enlarge

boating, business