BEC Union Cries 'Victimisation'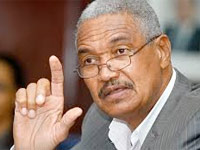 More than 100 BEC workers walked off the job yesterday after a union executive was suspended and another employee was terminated "without cause".
The workers gathered at the Bahamas Electricity Corporation's headquarters on Baillou Hill Road demanding the Prime Minister fire BEC Chairman Leslie Miller and immediately reinstate the fired employee.
Urban Smith, Vice President of the Bahamas Electrical Workers Union, said the corporation fired the woman, an employee for 17 years, without a valid reason.
He also claims the suspended employee, who is also an executive in the union, was being victimised for exercising his freedom of speech.

BEC, employees, union