Christian Heritage School Brings In The Spring Season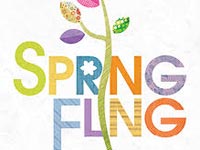 Christian Heritage School is set to host its first annual Spring Fling Festival on Saturday, April 27 from 10 am to 8pm at Holy Trinity Church Grounds, Stapleton Gardens. Families from across the island are invited to enjoy a day of free entertainment featuring bouncing castles, games, prizes, a smorgasbord of food and concerts including storytelling and a combined choir throughout the afternoon with Funky D headlining the local entertainment at 5pm.
Organized by the school's administration and Parent Teacher's Association, the event is intended to raise funds to upgrade the 14-year-old school's media department with new computers and internet access, the purchase of adult-sized stacking chairs for meetings and other improvements for the campus and school with 120 students.
"We wanted to do something that was fun and inspirational and do it in a setting that was different," said Merlene Taylor, principal of the school on Dean's Lane. "We chose an air-conditioned venue that would not only be comfortable for all the participants and vendors at various booths, but would allow maximum security, providing a sense of comfort for families, especially those with young children. With a full slate of activities and entertainment, it is the perfect opportunity for families to take time out and enjoy doing things together."
In addition to entertainer Funky D, puppeteer storytelling and singing favourites Derek Adams and the Yellow Bahamian will appear from 3-4 pm and the St. Francis & St. Joseph Gospel Choir will perform from 4 to 5 pm. More than 25 booths will offer everything from cotton candy to full dinners, crafts and more.
Booth rentals for the event are $75 each and tickets for fish, chicken and rib dinners are available for $10 each. For more information, please call 322.4271.
Diane Phillips and Associates

community, events, school, youth