Government Stalling On Jetski Approval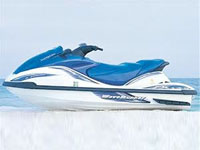 Alexys Sears, of Tsunami Watersports, has accused the Bahamian government of discriminating against its own citizens as he attempts to get the four-stroke WaveRunner approved by authorities. Although being rented by five cruise ships in The Bahamas, the modified watercraft is still prohibited to local operators.
Mr Sears said he made an application to the Port Controller and the Ministry of the Environment in 2010 but  after numerous meetings and exchanges  he has still not received an answer.
"The ministry eventually approved it, but the Port just won't sign off on it."
Related Articles:
Watersports Boat Owners Warned
Bahamas Watersports Negligence Leaves Widower Facing Life Alone
When Will The Water Sports Carnage Stop?
Government Attempts To Thwart Bad Press From Deadly Accidents
Another Tourist Dead After Watersports Injury
Another Bahamas Tourist Dies on a Jet Ski

environment, sports, watersports