Greenslade Vows Action Against Web Shops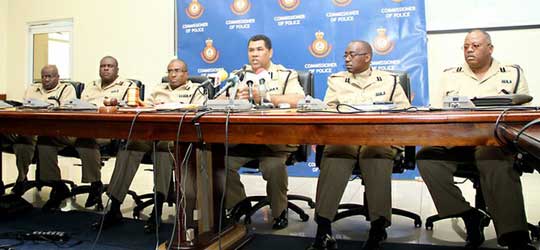 Police officers are "mounting an operation" against the illegal web shops. Commissioner Ellison Greenslade said that officers "will turn up" and "could turn up anywhere".
"If you are gambling, you should stop," Greenslade demanded.
Despite refusing to discuss details, Mr Greenslade assured the country that action will happen.
"If I'm going to be successful in mounting an operation, I cannot tell people when," he said.
"I have to do what I perceive to be the right things at the right times and I don't want you to take that lightly because we will turn up and we could turn up anywhere. In fact, that's a statement of fact – don't take it lightly."
The commissioner said his position "is and always has been" that where it is appropriate for police to take a course of action, they will.
"We're not going to say what date and time, when and where, and who – because that would defeat what were trying to do," he said.
"But I can assure you, if there's illegal activity taking place, I would suggest that those persons who are a part of it – should pay attention, we could show up at any time."
When questioned whether he believes gambling to be an "illegal activity", Greenslade stated that whatever Bahamian laws say about gambling, is what he believes.
"This is a very difficult issue – I've said it before and I'll say it again, and we are confusing some things," he said.
"The issue of illegality is spoken to, by law. There are some other issues that the commissioner cannot get into and will not get into. What I will suggest though, is that persons that are very, very concerned – if they are gambling, they should be very careful because the ones that ask me questions may get arrested.
"I've had a lot of people in the community that have asked me questions about what I will do and you might be surprised, when we do take action, what you might uncover.
"I am encouraging people to obey the laws of the Commonwealth of the Bahamas and if you are gambling, you should stop, yes. And the issue to say that 'well, this is basically what I do' has no validity in the face of the law."

illegal gambling, web shops