Immigration SNAFU at Atlantis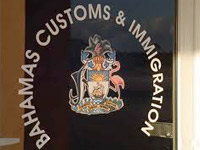 Immigration officers escorted a foreign employee off the Atlantis property in error, sparking further concerns that the government's new immigration policy is too aggressive.
The American woman works with marine mammals at the resort.
Director of Immigration William Pratt yesterday admitted the woman was brought in by mistake.
He told The Nassau Guardian the woman had her work permit application refused in February, but he said the refusal was being appealed.
He said a complaint was made to the department that the woman was "informing persons that she was a visitor".
He said officers from the department then picked her up for questioning, not knowing that her matter was under appeal.
Pratt explained that because her matter was being appealed the woman did not have to leave the country or stop working.
"In the normal process, if a permit is refused and an appeal comes in immediately after, we normally would not ask them to leave," he said.
"We would ask them to stay in place until the board reviews the case. That's the normal policy."
He said after realizing that the matter was under appeal they released the woman.
Pratt also admitted that her appeal was misplaced.
"Somehow it was between here and there and the appeal was not where it should be," he said.
St. Anne's Member of Parliament Hubert Chipman, who is also the shadow minister of immigration, said the government is "too aggressive in their policy".
"You just don't do that to people," he said.
"If the person has appealed they have every right to the appeal.
"Once the process is over then the law takes its course."
Pratt said no place is off limits to immigration officers.
"We can go to Atlantis, we can go to Lyford Cay, Old Fort Bay, anyplace where we get a complaint," he said.
"When we bring someone in for interrogation, sometimes you just simply asks them to accompany you to the office for further interrogation and questioning and research of records. "Sometimes there is a misunderstanding.
"When the officers come [back to the department] and get the proper information then we do our proper search and [if everything is in order and] we realize you are free, you can go back."
The government recently announced that it was tightening its work permit policy.
Minister of Foreign Affairs Fred Mitchell stressed that the government will make no apologies for its commitment to Bahamianization.
By Travis Cartwright-Carroll
Guardian Staff Reporter

atlantis, embarassment, immigration policy