Lawyers File Web Shop Appeals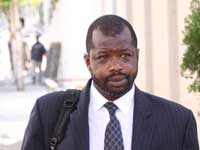 Attorneys representing web shop operators have appealed Chief Justice Sir Michael Barnett's decision to discharge a conservatory order that had protected their clients' operations from police interference.
They charged in their appeals filed on Tuesday that he erred in his judgement.
Attorney Wayne Munroe also filed a request for a stay of execution of Sir Michael's ruling pending the determination of a substantial application before the Supreme Court.
In his judgment, Sir Michael said, "This is not a proper case for the court to exercise its discretion to restrain the police from discharging their duties as they consider it proper to do."
Attorney Alfred Sears, a former attorney general, claimed that the chief justice "misdirected himself in attempting to resolve complex factual issues at an interlocutory hearing".
Munroe made similar claims, stating that Sir Michael wrongly executed his discretion when he ruled that he could not tell the police how to discharge their duties.
The lawyers secured the conservatory order from Senior Justice Jon Isaacs on January 30. It came the morning after Prime Minister Perry Christie announced that web shop gaming cease.
Christie issued the directive after a majority of people who voted in a referendum on January 28 voted no to the taxation and regulation of web shop gaming and no to the establishment of a national lottery.
The decision by Sir Michael to lift the order has raised uncertainty about the fate of web shops.
Sears contends the judge erred when he failed to recognize the constitutional right of his client (Paradise Games) not to be discriminated against on the basis of national origin, while foreign operators of gaming are subsidized by the government at public expense.
Sir Michael said in his ruling it is unclear how the constitutional question is raised in these proceedings.
He said the only action that is being threatened is a criminal prosecution under the Lotteries and Gaming Act.
Munroe represents Percy Web Cafe, Island Luck, FML Group of Companies, Asue Draw, Whatfall and Chances.
By Travis Cartwright-Carroll
Guardian Staff Reporter

court, lawyers, web shops