Lionfish Power-Eating Through Reefs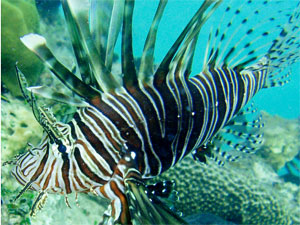 Scientists say they have few weapons to wield against the poison-spined lionfish, which is gobbling up reef fish in the Bahamas and other habitats.
A gluttonous predator is power-eating its way through reefs from New York to Venezuela. It's the lionfish.
And although researchers are coming up with new ways to protect some reefs from the flamboyant maroon-striped fish, they have no hope of stopping its unparalleled invasion.
Lad Akins has scuba dived in the vibrant reefs of the Bahamas for many years. But when he returned a couple years ago, he saw almost no fish larger than his hand.
Caption: Lionfish, like this one spotted in the Bahamas, are a non-native predatory fish that can decimate native fish populations. (MCT/Landov)

environment, fish, food, marine