Making Friends With Dolphins In The Bahamas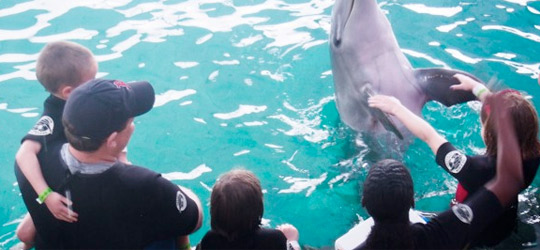 We were lucky enough to visit the facilities at Dolphin Encounters on Blue Lagoon Island for a memorable day with some bottlenose dolphins.  Transportation to the private island facility is provided by the company's ferries, which make the 3 mile trip from Paradise Island Ferry Terminal quickly. The company, which is owned and operated by a local family, began in 1989 when two Atlantic bottle nose dolphins were rescued from a closing Nassau aquarium. Since then, the company has expanded their facilities and acquired many more dolphins, who are trained using positive reinforcement techniques.
We participated in the Dolphin Encounter which allows you to personally meet a friendly bottlenose dolphin and learn a little more about him and his friends (who might also pop in from time to time to share the spotlight). After pulling on a wetsuit (the waters can be a bit icy), you walk out onto a waist-deep platform submerged in the ocean. With the guidance of a dolphin trainer, you are led through a educational routine, allowing you plenty of opportunities to touch and interact with your new slippery friend. The dolphin then swims up to allow you to experience a hug, a goofy dance, and a heart-warming kiss, all of which is caught on camera by the talented Photo staff. This experience starts at $98 per person, and souvenir photos are available for purchase (and turn out surprisingly well).

animals, marine, travel, vacation