NEMA Partners Up For Emergency Exercise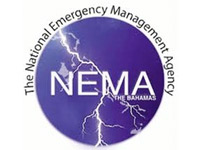 FREEPORT, Grand Bahama – The National Emergency Management Agency (NEMA) is involved in a joint offshore emergency exercise with the United States Coast Guard, the cruise line industry, emergency response teams and key Bahamas Government officials aimed at testing emergency response and evacuation procedures involving cruise ships, medical treatment operations, and land-based passenger care facilities.
The exercise, which runs from April 1 – 4, 2013, also aims to test operational safety practices and identify areas for improvement for the future.
Captain Stephen Russell, Director of NEMA, said from a national standpoint, even though NEMA is monitoring the exercise, a post mortem will be conducted to see how best our country can improve upon its response plan.
"We are also mindful that there are ports of call in New Providence and other Family Island areas where cruise ships anchor. We need to see what mechanisms are in place to determine what needs to be improved."
Administrator for the City of Freeport District, Alexander Williams, said that it's an exercise to test the strengths and weaknesses of NEMA's office on Grand Bahama.
"We are observing the US in this exercise. We are learning from this exercise and it is going to put to test our readiness for this kind of life incident, if it were to happen," Mr. Williams said.
He added, "It will put to the test the skills of our agents such as Customs and Immigration. It will also put to test our health care facilities and how quickly we can screen persons in determining whether they need to be airlifted because of injuries. It will also put to the test the Customs and Immigration agencies and how quickly they can airlift persons to the U.S. for care."
The joint exercise has been in the making since 2010. It will entail using Royal Caribbean International's Monarch of the Seas for evacuation, Norwegian Cruise Line to manage the landing site and Carnival Cruise Line's Care Team to take care of passengers and crew.
The exercise also involves search and rescue coordination; abandon ship process and accountability of passengers and crew; landing site management and medical surge with mass casualty incident procedures among other emergency protocols.
Freeport is located 65 miles off the coast of Palm Beach, Florida.  It is home to one of the largest container ports in the world, serving the eastern seaboard of the United States and major dry docks for cruise ship refurbishment.  It is also home to the deepest container terminal in the region, serving as a major container transshipment hub for the eastern seaboard of the United States and the principal east/west line-haul routes through the region.
For more information about the Black Swan exercise, please contact the Joint Information Center at (242) 688-8545.
By Lindsay Thompson

NEMA