Officers Seize $1m Worth of Marijuana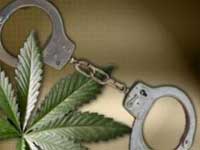 Officers from the Drug Enforcement Unit confiscated over 1,000 pounds of marijuana in two separate operations earlier this week. The reported street value of the marijuana is estimated at more than $1 million.
The most recent incident occurred around 7.30pm on Monday, April 22, 2013 in the area of Treasure Cove off of Eastern New Providence.
Police say officers from their Mobile Division were on patrol when they observed a man acting suspiciously while sitting in the driver's side of a parked white taxi.
As the officers approached, the man hit the gas and attempted to run over one of the officers.
However, the officers were able to detain the suspect without injury.
While conducting a search of the vehicle, officers discovered a large amount of marijuana with an estimated street value of over $9,000.
The officers then conducted a search of the suspect's home on Ruby Drive where they found a high-powered firearm.
Just a few hours earlier, officers in Exuma confiscated 42 bales of marijuana. This happened around 1:30pm on Monday, April 22, 2013. Police stated that DEU officers along with OPBAT officers discovered the large stash of marijuana at Bahama Sound.
The drugs weighed in at 1,000 pounds with an estimated street value of $1,018,000.
No one has been arrested in connection with the latter drug bust, although investigations are ongoing.

drug bust, holy smokes!, marijuana