U.S. Tourist Drowns In Eleuthera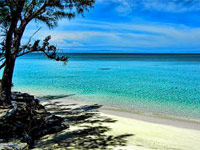 Authorities in the Bahamas have recovered the body of a U.S. tourist who was caught in an ocean current as he swam off a beach on the island of Eleuthera.
Superintendent Stephen Dean from the Royal Bahamas Police Force said the 31-year-old tourist was from Palm Beach, Florida. Police have not yet released his name.
Dean says the man's body washed ashore on Eleuthera late Saturday. He went missing on Friday evening.

beach, tourism, travel, vacation