Lee Wins LPGA Event On Shortened Course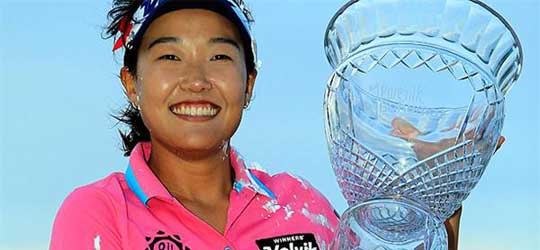 The golf course flooded, and then was closed for two days. The only way to hold the Bahamas LPGA Classic was to use 12 holes over three rounds. No one played the par-5 18th hole in competition until Sunday. It was a week like no other on the LPGA, especially for Ilhee Lee.
"This is the best day in my life," she said. "I'm so happy right now."
Lee made a clutch par putt on the second-to-last hole in a raging wind to keep a one-shot lead, and then she drilled a fairway metal out of light rough and onto the 18th green to set up a two-putt birdie. That gave her a 5-under 42 and her first professional win, by two shots over Irene Cho.
It was only fitting that she finished in a downpour.
Flooding earlier in the week left so much of the Ocean Club course under water that the tour's best option – especially with new sponsors Ohio-based Pure Silk and the Bahamas Tourism Ministry – was to shorten the course to 12 holes and play three rounds to reach the 36 holes required for an official event.
First-time winners usually get showered with beer. In the rain, Jennie Lee sprayed her with shaving cream.
While the entire week was wild, it was memorable in so many ways for the 24-year-old from South Korea. She loves to swim and loves to gamble, and Lee couldn't have been in a better spot to kill the time. She played the opening two rounds with her idol, Se Ri Pak.
Starting the final round three shots out of the lead, with the wind blowing as hard as it had all week, she was thinking even par would do her well.
She holed a 30-foot putt from off the green on her first hole. She chipped in from 60 feet on the next hole. And after running into trouble on the next hole, a par 5, she hit 5-iron into the hurting, left-to-right wind to 10 feet for a third straight birdie.
"After the third hole I was thinking, 'Maybe this is the day to win,"' she said.
Lee hit 9-iron to tap-in range on her eighth hole to take the outright lead, but she left a long birdie putt from the fringe some 5 feet short. With a one-shot lead, she couldn't afford a bogey, and Lee drilled the par putt right in the center and lightly pumped her fist leaving the green.
"The most important putt," she said.
The birdie on the 18th hole affected only the final margin. Lee finished on 11-under 126 and picked up $195,000, more than enough to offset the $45 she lost in four nights at the casino. Asked if she was going back to the casino Sunday night, Lee smiled and signaled two thumbs-up.
Cho, who teed off two hours before Lee, got into the mix by holing a 9-iron into the wind from 118 yards on the par-5 11th hole – the fifth hole of her round – and birdied three of the last five holes for a 7-under 40. The 7 under matched the low score of the week.
Anna Nordqvist had a 2-under 45 to finish alone in third. Cristie Kerr, coming off a win in Kingsmill two weeks ago, was in position for so much of the day and couldn't make a putt, the strength of her game. She even laid flat on her stomach to line up a 7-foot attempt on her ninth hole, only to see it bump off line. Kerr had to settle for a 46 and a five-way tie for fourth that included Paula Creamer (45) and Mika Miyazato (45).
The most sensible routing was a strange one. Every player started on No. 10 and then jumped from one side to the next. The course dried enough that the par-5 18th was used for the first time all week, and the fourth hole – which had been converted from a par 5 to a par 3 – was eliminated.
"They did the best they could," Kerr said. "Today was brutal with the wind. I didn't putt well enough and I couldn't steady myself in the wind. I'm glad the week is over. It was weird playing the 18th hole for the first time all week. I haven't seen it since Monday. I hope we get to play the whole golf course next year."
Cho's eagle from the 11th fairway was but a small part of her exciting round. Two holes later, her shot drifted onto the sandy beach and she figured she might as well try to play it.
"It was in the beach, and there was some water around it," Cho said. "And I was like, 'Shoot, I'm going to pull out a little Bill Haas and just try to get this up and over.' I got it out perfect."
She saved par, just like Haas did in a playoff at the Tour Championship in 2011 that led him to win the FedEx Cup.
As hard as the wind was blowing over the final hour, and as the sky began to darken, it looked as though Cho's score of a 9-under 128 might be enough to win. Lee was simply flawless.
"I can't believe it right now," Lee said. "It feels amazing. Awesome."
First-time winners typically get showered with beer. It was raining so hard that Jennie Lee sprayed her with shaving cream. The winner posed for photos with her sunglasses covered in white cream and a smile that stayed with her all day.
The perks kept right on coming after the trophy presentation. She was awarded a silver bracelet from Tiffany's, and all first-time winners get a Rolex watch.
Lee has come a long way since her rookie year in 2010, when she earned her card at Q-school and spoke "zero English." She decided to stay in private housing to help learn the language. And after a short interview before the trophy presentation, she smiled and said, "I think I did OK right now."
"This week, I was very happy," she said about her weird week. "I can play golf. I can swim. I can gamble. This is the best job in the world. I love golf."
By Doug Ferguson
The Golf Channel

golf, LPGA, Ocean Club