New Song Supports 'Save the Bays'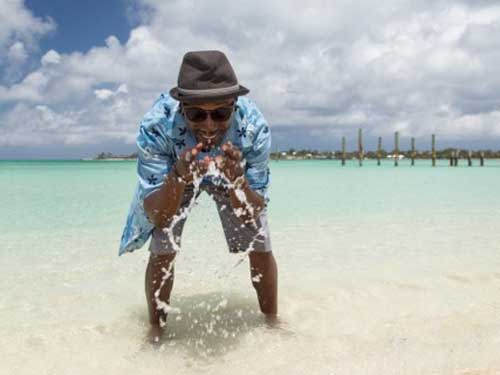 Kirkland 'KB' Bodie, the number one selling recording Bahamian artist, has joined the fast-growing marine environmental movement, Save The Bays, writing, performing and producing a song by the same name to bring awareness to the fragile state of the country's coral reefs and bays.
Save the Bays, written and sung by the artist who has produced more music than any living Bahamian, is set to premiere exclusively on the popular 100 Jamz morning show, Wake Up and Go with Special K and Leslie this Friday between 8:30 and 9 am. Immediately following that show, it will be released to all radio and online media outlets.
"You can clearly see the effects of the pollution in our waters," KB said following a land tour at Clifton Bay and an aerial plane ride over a few Bahamian islands with Save the Bays Director environmental activist Joseph Darville. "We all have an integral role in saving our bays. This was the impetus which led me to write the track." The song, just under four minutes, includes the chorus 'Rise up, Bahamas, Let your voices blaze, Stand up, Bahamas, come on let's Save The Bays, God gave us this land, and this land we must save, Stand up, Bahamas, come on let's Save The Bays.
KB, whose fan favorites include Civil Servants and Bush Mechanic, is no stranger to creating songs to express his concern over national and environmental issues. In 2011, he produced the hit Dey Sellin' voicing the frustration of the Bahamian people regarding the constant sale of Bahamian land resources.
A diligent supporter of Friends of the Environment, the Abaco-based non-profit organisation dedicated to protection and preservation of waters and wildlife in The Bahamas and careful development, KB works tirelessly to assist the group in its efforts. On the heels of his most recent studio project, KB and Friends Volume 4, KB has pledged part proceeds of the album sales to Friends of the Environment.
Save the Bays, formerly known as the Coalition to Protect Clifton Bay is a licensed non-profit Bahamian corporation committed to preserving and protecting the delicate environmental, ecological and cultural balance of Clifton Bay and the surrounding community. Special priority is given to encouraging effective land-use decisions and habitat restoration efforts that benefit the natural and human communities of the bay.
By Alexavia Dorsett

Clifton Bay, KB, music