The Bahamas' Mea Petit-Homme Competes In Miss Caribbean World 2013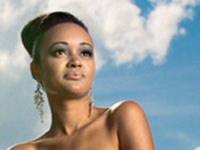 Mea Petit-Homme, Miss Caribbean World Bahamas 2013 is currently competing in the Miss Caribbean World contest taking part in the British Virgin Islands.
Mea Petit-Homme was born in Nassau Bahamas to a Cuban Bahamian father and Haitian Bahamian mother.
Mea is presently a student at the College of the Bahamas studying foreign languages and Education.
She presently speaks both Spanish and Creole fluently and wishes to use her knowledge of languages to educate young Bahamians by encouraging about her multicultural nation.
Mea enjoys travelling, modeling and pageantry; to date she has competed in 2 beauty contests locally.
She has placed 2nd runner up in the Miss Teen Bahamas pageant and won the title of Miss International Bahamas pageant 2013.
By The Bahamas Weekly News Team

beauty, caribbean, pageant