Toastmasters Club 1600 Shares 44-Year Legacy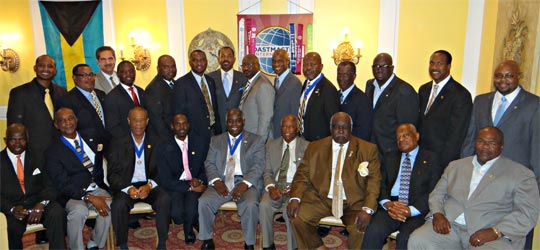 It was an inspiring meeting for some, for others it was an enjoyable trip down memory lane as 24 past presidents of Toastmasters Club 1600 met for only the second time in the club's 44-year history.
Officially, 'First Bahamas Branch' goes before the club's name, denoting its premier, historical standing as the first local branch of the international organization which develops communication, public speaking and leadership skills.
The club's official charter, issued January 1, 1969, was presented to the club's founding president, Ernest T. Strachan in April of that year by Lynden O. Pindling [later Sir Lynden] who at the time was the premier of the Commonwealth of The Bahamas.
"The club has created many great leaders in our country and served as a foundation for my own development," said deputy prime minister, Philip Brave Davis, who served as president in 1979.
Mr. Davis encouraged the fraternal club to continue to help build the nation.
"We're in desperate need of men to lead," he said.
Former insurance executive turned business consultant, Keith Major joined the organization in August 1979, as a necessary means of being a successful salesman.
"I learned leadership but also fellowship. I learned how to speak but I learned more how to listen," he said. "I learned how to think on one's feet, but I also learned how to think before [I] speak."
According to Franklyn Winder, the club's VP of Education, the assembly of past president on Thursday, April 18, placed a huge chunk of the club's living legacy in one place.
"The purpose of the night was to bring the foundation of 1600 together for one night. It brought a lot of joy to see how the club has developed since its formation in 1969," he said. "I was happy that young Toastmasters like myself got to see the depth and strength of the club's legacy. The stories, memories and reflections shared were priceless."
Club president Pedro Young called the meeting "a legendary event."
"It was one of the most memorable moments of my presidency," he said. "To hear the deputy prime minister refer to me as Mr President was overwhelming to say the least."
There are no professional titles used during club meetings other than that of president.
"We are all just Toastmasters with one goal, and that is to provide a mutually supportive and positive learning environment, in which every member has the opportunity to develop oral communication and leadership skills, which, in turn, fosters self confidence and personal growth," said Mr. Young.
The Past Presidents' Meeting was the club's last major event before annual elections were held on Thursday, April 25.
Newly elected officers will be officially installed on July 1.
Club 1600 meets every Thursday at 8pm at SuperClubs Breezes.
By Precision Media
Caption: Officers and past presidents of the First Bahamas Branch of Toastmasters Club 1600 met on Thursday, April 18, at SuperClubs Breezes for only the second time in the club's 44-year history.

community, people, society